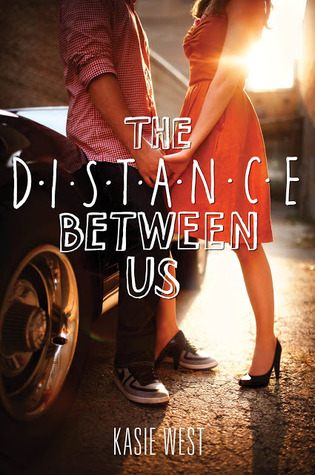 Title: The Distance Between Us
By: Kasie West
Release Date: July 2, 2013
Publisher: HarperTeen
Genres: Fiction, Young Adult, Contemporary, Romance
Pages: 312 (Paperback)
Format: Kindle 
Source: Purchased
About On the Fence:
Seventeen-year-old Caymen Meyers studies the rich like her own personal science experiment, and after years of observation she's pretty sure they're only good for one thing—spending money on useless stuff, like the porcelain dolls in her mother's shop.
So when Xander Spence walks into the store to pick up a doll for his grandmother, it only takes one glance for Caymen to figure out he's oozing rich. Despite his charming ways and that he's one of the first people who actually gets her, she's smart enough to know his interest won't last. Because if there's one thing she's learned from her mother's warnings, it's that the rich have a short attention span. But Xander keeps coming around, despite her best efforts to scare him off. And much to her dismay, she's beginning to enjoy his company.
She knows her mom can't find out—she wouldn't approve. She'd much rather Caymen hang out with the local rocker who hasn't been raised by money. But just when Xander's attention and loyalty are about to convince Caymen that being rich isn't a character flaw, she finds out that money is a much bigger part of their relationship than she'd ever realized. And that Xander's not the only one she should've been worried about.
LINKS: Goodreads | Amazon | B&N |  The Book Depository
---
My Rants and Raves of The Distance Between Us
Reading The Distance Between Us was like watching a John Hughes' film. I must say I enjoyed the story and the gradual relationship that grew between the two main characters, Caymen and Xander. I mean, there's even a Blaine in the story, so this book has to be Pretty in Pink – John Hughes inspired!!!
My number one love for this book was the dialogue. I thought the dialogue between Caymen and Xander was witty and funny. With each chapter I looked forward to the quick, sarcastic banter that Caymen brought in Xander's direction. I thought a few of the scenes were over-dramatic, but overall I did like how quirky both characters were and how well they connected. More importantly, I enjoyed how they dared each other out of their own comfort zones. 
Additionally, I really liked that this book was focused on self-acceptance, instead of it being another contemporary read about a poor girl that falls in love with rich boy and vice versa. Even though I did not enjoy some of the angsty scenes, I enjoyed West's writing, and I appreciated that The Distance Between Us encompassed a very heartfelt and slow-building story littered with love, jealousy, secrets, friendship, family, humor, and trust. If you love 80s' films, especially if you're a John Hughes fanatic, give this book a try. 
Note:   I bought this book with my own funds. I was not provided a copy of this book by the author or the publisher in an exchange for a review; I reviewed it at my own discretion.  All statements and opinions in this review are mine.