WAITING ON WEDNESDAY:
The Crown's Game
Waiting on Wednesday is a weekly event that highlights pre-publication/upcoming releases that readers cannot wait to get their hands on. It is hosted by Jill at Breaking the Spine.
This week my most anticipated read is…The Crown's Game by Evelyn Skye
A picture of the beautiful cover and a brief summary provided by Goodreads is below: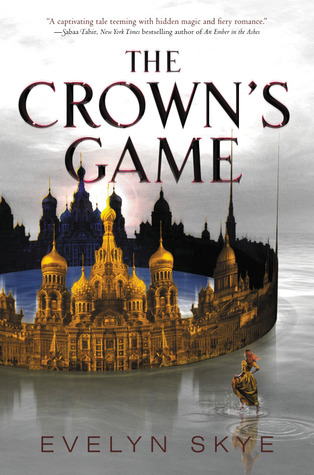 Goodreads' summary:
Vika Andreyeva can summon the snow and turn ash into gold. Nikolai Karimov can see through walls and conjure bridges out of thin air. They are enchanters—the only two in Russia—and with the Ottoman Empire and the Kazakhs threatening, the Tsar needs a powerful enchanter by his side.
And so he initiates the Crown's Game, an ancient duel of magical skill—the greatest test an enchanter will ever know. The victor becomes the Imperial Enchanter and the Tsar's most respected adviser. The defeated is sentenced to death.
Raised on tiny Ovchinin Island her whole life, Vika is eager for the chance to show off her talent in the grand capital of Saint Petersburg. But can she kill another enchanter—even when his magic calls to her like nothing else ever has?
For Nikolai, an orphan, the Crown's Game is the chance of a lifetime. But his deadly opponent is a force to be reckoned with—beautiful, whip smart, imaginative—and he can't stop thinking about her.
And when Pasha, Nikolai's best friend and heir to the throne, also starts to fall for the mysterious enchantress, Nikolai must defeat the girl they both love . . . or be killed himself.
As long-buried secrets emerge, threatening the future of the empire, it becomes dangerously clear . . . the Crown's Game is not one to lose.
---
 Waiting on Wednesday's

Top 5 Rants and Raves

of why I need this book in my life…
First, the cover is breathtaking, creative, and

I WANT IT NOW

!
The word "crown" is in the title. I'm currently a sucker for book titles with crown or queen in them. GIMME, WHY ISN'T THIS BOOK IN MY LIFE, YET?!
MAGIC!!!
A

Russian

setting. I have an immense fascination with Russian culture, literature, and history, so obviously this book has earned 100-bajillion points to Ravenclaw!
And last, the synopsis provides hints to a complicated romance that is guaranteed to make me swoon. YES, PLEASE!
I NEED THIS BOOK IN MY LIFE, RIGHT NOW!!! *STOMP STOMP STOMP*