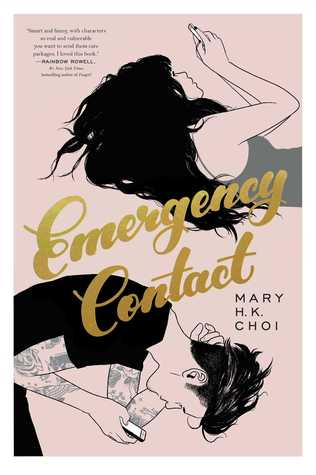 Title: Emergency Contact
Author: Mary H.K. Choi
Publisher: Simon & Schuster Books for Young Readers
Release Date: March 27, 2018
Genres: Young Adult, Contemporary, Romance
Synopsis:
For Penny Lee high school was a total nonevent. Her friends were okay, her grades were fine, and while she somehow managed to land a boyfriend, he doesn't actually know anything about her. When Penny heads to college in Austin, Texas, to learn how to become a writer, it's seventy-nine miles and a zillion light years away from everything she can't wait to leave behind.
Sam's stuck. Literally, figuratively, emotionally, financially. He works at a café and sleeps there too, on a mattress on the floor of an empty storage room upstairs. He knows that this is the god-awful chapter of his life that will serve as inspiration for when he's a famous movie director but right this second the seventeen bucks in his checking account and his dying laptop are really testing him. 
When Sam and Penny cross paths it's less meet-cute and more a collision of unbearable awkwardness. Still, they swap numbers and stay in touch—via text—and soon become digitally inseparable, sharing their deepest anxieties and secret dreams without the humiliating weirdness of having to see each other.
---
Confession time: I didn't love Emergency Contact as much as I thought I would. I read some reviews, where readers labeled it as a romantic comedy, but I thought the book was too serious in tone to be considered a "rom-com." I think portraying both Penny and Sam, the main characters, as being very "reclusive" and in constant "crisis" modes overwhelmed me. I picked up this book because I thought it was going to be funny and romantic, but instead their "inner thinkings" and sense of loneliness made the pacing of the story very slow and cheerless.
In Emergency Contact, I had a hard time connecting with the two main characters. Although they were unique and we were always inside their heads, the characters' personalities and motives did not click with me. Throughout most of the book, the main characters are very stagnant, which almost made me put the book down and mark it as "DNF." However, I pushed myself to continue reading, and the last 100 pages actually saved me from putting the book back on the shelf.
The latter part of the book definitely has its swoony and laugh-out-loud moments, even though both characters are going through some major life crises. Near the end, I enjoyed watching Penny and Sam's lives become more entangled, which allowed their stories to be filled with heart, deep confessions, and motivations. Although the book was not 100% for me, I highly recommend it for fans of Eleanor and Park.
Note:   I was not provided a copy of this book by the author or the publisher in exchange for a review. I bought this book with my own funds, and I reviewed the book at my own discretion.  All statements and opinions in this review are mine.