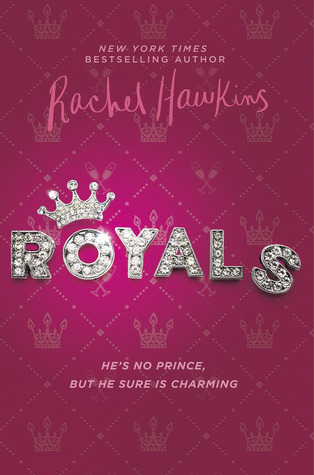 Title: Royals
Author: Rachel Hawkins
Publisher: Penguin Random House
Release Date: May 1, 2018
Genres: Young Adult, Contemporary, Romance
Synopsis:
Meet Daisy Winters. She's an offbeat sixteen-year-old Floridian with mermaid-red hair; a part time job at a bootleg Walmart, and a perfect older sister who's nearly engaged to the Crown Prince of Scotland. Daisy has no desire to live in the spotlight, but relentless tabloid attention forces her to join Ellie at the relative seclusion of the castle across the pond. 
While the dashing young Miles has been appointed to teach Daisy the ropes of being regal, the prince's roguish younger brother kicks up scandal wherever he goes, and tries his best to take Daisy along for the ride. The crown–and the intriguing Miles–might be trying to make Daisy into a lady . . . but Daisy may just rewrite the royal rulebook to suit herself.
---
Royals by Rachel Hawkins is a fun and fluffy read. This story has everything from cute princes, a snarky female lead, angst, and my favorite, all the swoons. Although the main character Daisy is forced to spend her summer in a new country and in the spotlight with royalty, I think she handles her situation very well. She is told what not to do, what to do, and is oftentimes forced to put on a show for society. I often felt like I was watching a 90s movie, where change is inevitable, but the female lead allows herself to rebel against society's standards and be who she wants to be. 
I honestly felt sorry for Daisy throughout the book. She did not ask to be thrown into this world of royalty and proper etiquette. In one part of the book, her and her best friend had a whole trip planned out to meet their favorite author and I hated that her sister's engagement to a prince ruins those plans. I had to grit my teeth because Daisy was forced to go with the flow and do what other people want. So not fair! But what I liked about Daisy is that even though she is forced to put on a show, she still puts her foot down when needed. She doesn't allow herself to get lost in this royalty mess. 
Overall, I found Royals to a very quick and cute read. However, I felt like it was missing something–that spark that makes it different and "wows" me. I never felt that spark. I did, however, love the ending and I hope there is a lot more in store for Daisy and Miles. 
Note: Thank you to Penguin Random House's First to Read program for providing me an e-ARC of this book in exchange for an honest review. All statements and opinions are my own.