I saw someone post this tag and I thought it would be something fun to complete. So here we go!
1. If you could invite one author and one of their fictional characters for tea who would you invite and what would you serve?
I would invite Charlotte Brontë and her character Jane Eyre. I would serve Earl Grey  tea, sandwiches (including cucumber sandwiches), and macarons. I might sneak some Indian food in there as well; I think they would enjoy the spices. 
2. What would you love a prequel for and what would be the main storyline?
I would want a prequel to Uprooted by Naomi Novik. I would want it to be all about the Dragon, his past, and maybe even a little sneak peak into his thoughts on Agnieszka while she is living with him.
3. Which two characters not from the same book would make a great book couple?
Hermione from the Harry Potter series and Clark from Morgan Matson's The Unexpected Everything.

4. If you ran into your favorite author on the subway and could only say one sentence to them, what would you say?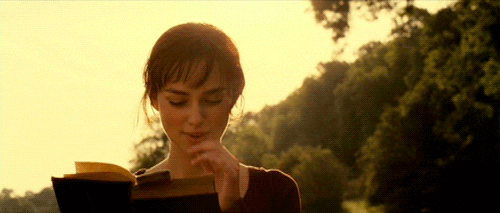 I don't even think I could get one sentence out. Hmm…I might say, "my life, my world, my thoughts, my opinions, all changed due to your words."
5. What book made you a reader and why?
My mom, who was an avid reader herself, gifted me two books when I was in my tweens: Jane Eyre and Little Women. After reading those books, I became obsessed with reading, because I love escapism, and more importantly I loved the depiction of female empowerment that was ingrained in the female characters of both books.
6. If your bookshelf caught on fire which book would you save?
I would probably save one of my books from my The Winner's Curse trilogy. Who am I kidding?! I would save this entire collection.
7. Which dystopian world would you want to live in?
Ummm…none. Are you crazy?!
8. What is your most epic read of all time?
Although, I love Jane Eyre, my most epic read is currently tied between The Night Circus and Uprooted. I am a sucker for stories that encompass magic, enchantment, strong/witty female characters, compassion, and a passionate couple.
Thanks for joining me! 
I tag anyone who would love to complete this tag. And if you do this tag, please feel free to comment below with your link. I would love to check out your answers and pictures/.gifs that you add.