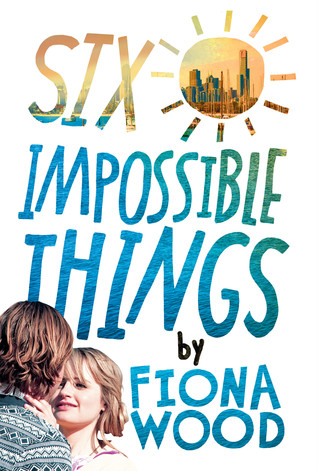 Title: Six Impossible Things
By: Fiona Wood
Release Date: August 11, 2015
Publisher: Poppy
Genres: Fiction, Young Adult, Contemporary, Romance
Pages: 304 (Hardcover)
Format: ARC
Source: Won from NOVL newsletter (2015)
About Six Impossible Things:
1. Kiss Estelle.
2. Get a job.
3. Cheer my mother up.
4. Try not to be a complete nerd/loser.
5. Talk to my father when he calls.
6. Figure out how to be good.
Nerd-boy Dan Cereill is not quite coping with a reversal of family fortune, moving, new-school hell, a mother with a failing wedding cake business, a just-out gay dad, and an impossible crush on Estelle, the girl next door. His life is a mess, but for now he's narrowed it down to six impossible things…
In this charming story of one guy's efforts to get it together when his life is falling apart, award-winning author Fiona Wood introduces an irresistible voice and a delightfully awkward character who is impossible to forget.
LINKS: Goodreads | Amazon | B&N |  The Book Depository
---
MY RANTS AND RAVES OF SIX IMPOSSIBLE THINGS
I went into this book with very little knowledge of it, other than it is a new contemporary read. Six Impossible Things was the perfect book to cozy up on the couch with as the rain splattered against the windows. I'm not an aficionado in Aussie lingo, so I had a hard time understanding some of the Australian slang/wordage, but other than the small slang barrier, I enjoyed this book.
In the beginning of Six Impossible Things , the saying "when it rains, it pours," fits Dan's life perfectly. All has gone wrong in Dan's life, but as the story progresses, life's mishaps slowly begin to mend. Dan wants to do things right by his family and his friends, but sometimes he breaks the rules for selfish reasons. In the end, Dan matures into a likeable main character for both the reader and his fellow characters.
Six reasons you should read Six Impossible Things:
1) Dan is a self-proclaimed nerd. He has great taste in music and has the most perfect friendship with his dog.
2) Howard, Dan's dog, is a Dan-proclaimed "psychic" and knows how to correctly respond to all situations. EEEeee!!! Howard steals every chapter that he is in. You will want to hug him and never let go.
3) Dan loves making lists. I love making lists. So in other words, Dan is perfect. HAHAHA!
4) This book will tug at your heart strings. Dan has to deal with divorced parents, in which his dad leaves his family bankrupt and homeless. Dan's mother starts a business with wedding cakes; her only downfall is that she usually convinces her customers that marriage is a fluke. And while Dan's family life is in knots, he has to go to a new school and deal with bullies. AHHH SO MANY DILEMMAS AND PROBLEMS FOR SUCH A YOUNG GUY.
5) Dan has a dark but witty sense of humor. It's his best quality and a great mechanism to deal with all that goes wrong in his personal world.
6) Dan is a black sheep who becomes the ultimate hero. He cares for his old and new friends, he helps his mom through emotional and financial troubles, and in the end I wanted to go back to high school, befriend Dan. His sarcasm and philosophies are validating…he definitely has swoonworthy qualities.
Note:   This review was previously posted on my Goodreads account on June 28, 2015, and has been updated for my blog. I received an Advance Reader's Copy (ARC) as a winner of NOVL's monthly newsletter giveaway.  Thank you, NOVL and Poppy! I was not provided a copy of this book by the author or the publisher as an exchange for a review; I reviewed it at my own discretion.  All statements and opinions in this review are mine.