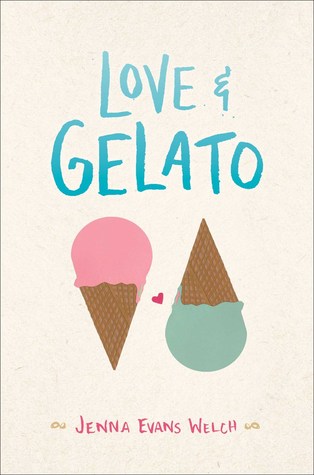 Title: Love & Gelato
Author: Jenna Evans Welch
Publication date: May 3, 2016
Publisher:  Simon Pulse
Genres: Young Adult, Contemporary, Romance
About the Book:
"I made the wrong choice."
Lina is spending the summer in Tuscany, but she isn't in the mood for Italy's famous sunshine and fairy-tale landscape. She's only there because it was her mother's dying wish that she get to know her father. But what kind of father isn't around for sixteen years? All Lina wants to do is get back home.
But then she is given a journal that her mom had kept when she lived in Italy. Suddenly Lina's uncovering a magical world of secret romances, art, and hidden bakeries. A world that inspires Lina, along with the ever-so-charming Ren, to follow in her mother's footsteps and unearth a secret that has been kept for far too long. It's a secret that will change everything she knew about her mother, her father—and even herself.
People come to Italy for love and gelato, someone tells her, but sometimes they discover much more.
LINKS: Goodreads | Amazon | Barnes & Noble |  The Book Depository
---
I had such high hopes for Love & Gelato, but in the end the story did not win me over. I really had a hard time connecting with the characters and story plot. In general, I found this story predictable and I was not swept up by the love connection between two of the characters. This story takes place in a matter of days, but I honestly felt like the plot was scattered and dragged over an entire summer. 
Yes, the book does have some great scenes focused on delicious food and beautiful Italian landmarks, but overall Love & Gelato did not have me swooning and I was very agitated by the lack of communication among a majority of the characters. COME ON, TALK TO EACH OTHER. Listen, ask questions, but more importantly stop ignoring the obvious!
Maybe I'm in a contemporary-book reading slump, because I really wanted to love this story after reading all the raving reviews, but I felt no love connection with any part of the book except for one. The best thing about Love & Gelato, the number one person that won me over and had me enjoying each chapter, was Lina's father Howard. I loved that unbeknownst to him, he instilled a little fear in Lina's friends and potential boyfriend, hahaha. Howard was so heartwarming, caring, and funny, and he definitely made the book worth reading.  Overall, even if this wasn't one of my favorite books, it's still a light and fluffy read that I think other contemporary readers might enjoy. 
NOTE:  I was not provided a copy of this book by the author or the publisher in an exchange for a review. I bought this book with my own funds and reviewed it at my own discretion.  All statements and opinions in this review are mine.