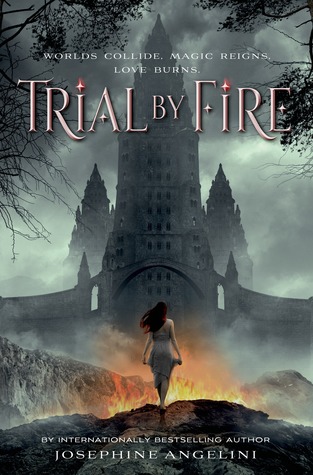 Title: Trial by Fire
By: Josephine Angelini
Release Date: September 2, 2014
Publisher: Feiwel & Friends
Genres: Young Adult, Fiction, Fantasy, Romance
Pages: 374
Format: Hardcover
Source: Purchased
About Trial by Fire: 
The exhilaratingly seductive new series from the author of the bestselling Starcrossed series
Love burns. Worlds collide. Magic reigns.
This world is trying to kill Lily Proctor. Her life-threatening allergies keep her from enjoying many of the experiences that other teenagers take for granted…which is why she is determined to enjoy her first (and perhaps only) high-school party. But Lily's life never goes according to plan, and after a humiliating incident in front of half her graduating class Lily wishes she could just disappear.
Suddenly Lily is in a different Salem – one overrun with horrifying creatures and ruled by powerful women called Crucibles. Strongest and cruellest of all the Crucibles is Lillian . . . Lily's identical other self in this alternate universe. This new version of her world is terrifyingly sensual, and Lily is soon overwhelmed by new experiences.
Lily realizes that what makes her weak at home is exactly what makes her extraordinary in New Salem. It also puts her life in danger. Thrown into a world she doesn't understand, Lily is torn between responsibilities she can't hope to shoulder alone, and a love she never expected.
But how can Lily be the saviour of this world when she is literally her own worst enemy?
LINKS: Goodreads | Amazon | B&N |  The Book Depository
---
MY RANTS AND RAVES OF TRIAL BY FIRE
I had the hardest time getting into this book and then the hardest time finishing it. I am a sucker for books about witches, especially witchy books that encompass a nod to the Salem Witch Trials, so I had high hopes for Trial by Fire. But in the end, sadly, this book did not win me over.
Trial by Fire started out so slow, and nothing hooked me to the plot. I am still unraveling the idea of mixing fantasy and science in the storyline, and creating a dynamic binary between magic versus science/scientific method/medicine/atomic theory/pollution, etc. But overall, I don't think the meshing of fantasy and science is what lost me in the book. There are some holes in this novel that made me feel like I was missing an inside joke or that I was purposely being left out of big secrets. I need a reason why I should be rooting for the main character/heroine, Lily, and I never got that reason, or I at least didn't understand that reason.
I thought the premise of Trial by Fire was interesting (hello, Salem witches!), but this book fell flat for me. Hopefully in the next book the characters are more developed and there is more information given on the driven force between each of the characters' motives/motivations.
Note:  This review was previously posted on my Goodreads account on August 22, 2015, and has been edited/updated for my blog. I was not provided a copy of this book by the author or the publisher in exchange for a review. I bought this book with my own funds and reviewed it at my own discretion. All statements and opinions in this review are mine.