Title: On the Fence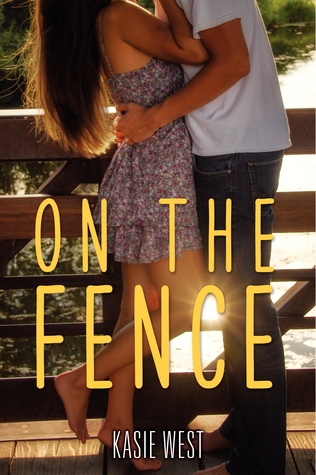 By: Kasie West
Release Date: July 1, 2014
Publisher: HarperTeen
Genres: Fiction, Young Adult, Contemporary, Romance
Pages: 296 (Paperback)
Format: Paperback
Source: Purchased
About On the Fence:
For sixteen-year-old Charlotte Reynolds, aka Charlie, being raised by a single dad and three older brothers has its perks. She can outrun, outscore, and outwit every boy she knows—including her longtime neighbor and honorary fourth brother, Braden. But when it comes to being a girl, Charlie doesn't know the first thing about anything. So when she starts working at chichi boutique to pay off a speeding ticket, she finds herself in a strange new world of makeup, lacy skirts, and BeDazzlers. Even stranger, she's spending time with a boy who has never seen her tear it up in a pickup game.
To cope with the stress of faking her way through this new reality, Charlie seeks late-night refuge in her backyard, talking out her problems with Braden by the fence that separates them. But their Fence Chats can't solve Charlie's biggest problem: she's falling for Braden. Hard. She knows what it means to go for the win, but if spilling her secret means losing him for good, the stakes just got too high.
LINKS: Goodreads | Amazon | B&N |  The Book Depository
---
My Rants and Raves of On the Fence
I read On the Fence for July's book club pick. In all honesty, I did not enjoy reading this book; maybe I wasn't in the mood for a contemporary (but I really thought I was at the time), but this book is my least favorite of Kasie West's. 
One of the main reasons that I did not enjoy this book was due to the main character, Charlie. I tried to give Charlie a chance, but I found her SO ANNOYING! I realize her mother past away when she was younger, so she was raised by her father and three brothers, so she is characterized as a complete tomboy. But her love for baseball, or any sport, did not shy me away from the story; instead it was her attitude problem that had me wanting to throw the book across the room. Throughout the novel, Charlie is constantly fighting off people who are trying to help her. I could not connect to Charlie or her story, because she was constantly being stubborn and frustrating. UGH, just thinking about her actions, still gets me fired up. 
I almost gave up on this book, but in the end it was a very quick read. I did enjoy the dynamics and the unique relationships between Charlie and her brothers. They were fun, humorous, and protective. And I also liked her friend/neighbor, Braden. Braden is definitely a good guy that cares deeply about Charlie; their encounters and fence talking were honest and adorable. 
Overall, this is a classic girl crushing on the "boy next door" story; it is a quick read, but be prepared for a main character that is stubborn as hell. 
Note:   I bought this book with my own funds. I was not provided a copy of this book by the author or the publisher in an exchange for a review; I reviewed it at my own discretion.  All statements and opinions in this review are mine.