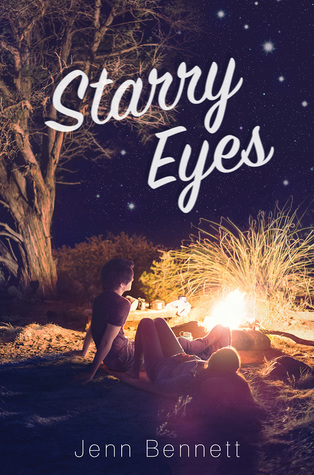 Title: Starry Eyes
Author: Jenn Bennett
Publisher: Simon Pulse
Release Date: April 3, 2018
Genres: Young Adult, Contemporary, Romance
Synopsis:
Ever since last year's homecoming dance, best friends-turned-best enemies Zorie and Lennon have made an art of avoiding each other. It doesn't hurt that their families are the modern day, Californian version of the Montagues and Capulets.
But when a group camping trip goes south, Zorie and Lennon find themselves stranded in the wilderness. Alone. Together.
What could go wrong?
With no one but each other for company, Zorie and Lennon have no choice but to hash out their issues via witty jabs and insults as they try to make their way to safety. But fighting each other while also fighting off the forces of nature makes getting out of the woods in one piece less and less likely.
And as the two travel deeper into Northern California's rugged backcountry, secrets and hidden feelings surface. But can Zorie and Lennon's rekindled connection survive out in the real world? Or was it just a result of the fresh forest air and the magic of the twinkling stars?
---
If you love second chance romances, complicated friendships, and downright brutally honest characters, Starry Eyes by Jenn Bennett is the perfect book for you. Take everything you love about Bennett's past young adult books (if you haven't read them yet…OHMYGOD, READ THEM!) and then multiply that love by a bajillion, and you get Starry Eyes. This novel is a mix of coming-of-age discoveries, molding friendships, and holding on to the aspect that pure love exists in all shapes and forms. 
Starry Eyes is a meshing between Katherine Center's Happiness for Beginners, an adult hiking story centered on new beginnings and self-discovery, and the messy complications of teenage life found in Jenn Bennett's own Alex, Approximately.  The main characters in Starry Eyes, Zorie and Lennon, struggle throughout the pages trying to understand what happened to their past friendship, how did they come to this point in "hating" each other, and can their friendship re-ignite as they hike through mountains, fend off bears and snakes, and map their way to new beginnings. I love the chemistry between these two characters. Zorie and Lennon have a fantastic history between each other; it's filled with inside jokes, the "great experiment," and familial dynamics that balance on a thin line of love and hate. 
Furthermore, I really enjoyed Starry Eyes because it focuses on so many relevant topics and diverse characters. Without providing too many spoilers, Bennett takes a refreshing stance on modern-day families. She challenges the idea of the traditional sense of parents, and it made my heart grow 3 times bigger whenever I read a scene between Zorie and her stepmom. I also liked Bennett's ability to write about positive and safe sex decisions in a young adult novel. Zorie and Lennon's path towards discussing sex is based on affection, consent, respect, and love. 
In the end, this story is a beautiful mashup of star-gazing, glamping shenanigans, and a destined friendship that can withstand anything. I'm going to say it right now, Starry Eyes is by far my favorite contemporary book of 2018, so far. Zorie and Lennon's fierceness, angst, determination, and quirks made them so captivating and so hard not to love and root for throughout each chapter. I would highly recommend this book to anyone who loves a good romantic story filled with great character-development, laughs, swoons, and warm, slow-rising smiles. 
 
Note: I was not provided a copy of this book by the author or the publisher in an exchange for a review. I received this book from a friend, and I reviewed the book at my own discretion.  All statements and opinions in this review are my own.