Title: Dark Energy
By:  Robison Wells
Release Date: March 29, 2016
Pages: 288 (Hardcover)
Publisher: HarperTeen
Format: ARC
Source: Borrowed 
GOODREADS SUMMARY: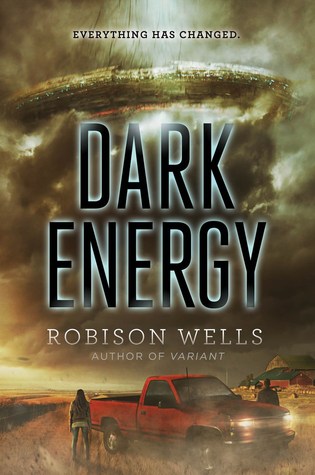 We are not alone.
Five days ago, a massive UFO crashed in the Midwest. Since then, nothing—or no one—has come out.
They have arrived.
If it were up to Alice, she'd be watching all of this on the news from Miami, Florida. Instead, she's the newest student at a boarding school not far from the crash site—because her dad is the director of special projects for NASA, and if anything is a special project, it's this.
And there's no going back.
A shell-shocked country is waiting, glued to televisions and computer screens, for a sign of what the new future holds. But when the aliens emerge, they're nothing like what Alice expected. And only one thing is clear: Nothing will ever be the same again.
---
The Rants and Raves of Dark Energy
I LOVE novels about aliens, spaceships, or anything dealing with space. I had heard very little hype surrounding Dark Energy, so of course I was excited for a non-spoilery, non-hyped read of  Robison Wells' newest book. Overall, Dark Energy is a very quick and well-paced read. I read it in one sitting and I really enjoyed the steady flow that Wells carries throughout the novel. From my understanding, the book is a standalone, so it has the basic bullet points of a good story: introduction of  a main character/conflict, the climax, and then the much anticipated resolution. 
First, I had a hard time connecting with the main character, Alice. She's a rich teenager, with an expensive car,  who is forced to go to a boarding school in Minnesota, because her dad works for NASA and he's on a special assignment in the Midwest where a gigantic spacecraft has crashed.  Alice is a "go-with-the-flow" type of girl. She does not have that much of a personality–she's just blah (sorry, I don't know how else to describe her…she's just there and she's making the most of her world that is now inhabited by aliens). She has a very dry sense of humor and reveals very little emotional responses to the people and hysteria that surrounds her. I'm a big fan of people with "dry" and "sarcastic" sense of humors, but overall I found Alice to be a typical stock character that was underdeveloped. 
Even though Alice's voice and personality never clicked with me, the storyline  was definitely engaging and unpredictable. And without providing any spoilers for future readers, Wells' aliens are definitely worth exploring in this book. The aliens may parallel human beings in numerous ways, but they also hold their own secrets and talents. The aliens and their background story made me question my own knowledge of the universe, and everything from human understanding, to science, to ancestry, and to historical events. I loved the path that Wells provides to his readers to help connect his characters to the aliens and the other conflicts that invade them. The aliens and the reasons behind their crash in Minnesota are definitely the key factors make Dark Energy an engaging read. 
Even though I found the main character, Alice, to be one-dimensional, I think the plot, the twists, and the well-constructed ending are well crafted and make the book a good contribution to the science fiction genre. 
PURCHASE THIS BOOK FROM YOUR LOCAL BOOKSELLER/RETAILER 
Amazon   •     Barnes and Noble    •     Book Depository 
NOTE:          Even though this is an Advance Reader's Copy (ARC), I borrowed this book from a fellow blogger. I was not provided a copy of this book by the author or the publisher for a review. All statements and honest opinions are mine.