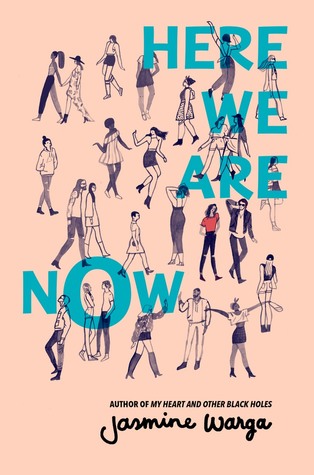 Title: Here We Are Now
Author: Jasmine Warga
Published by: Balzer + Bray
Publication date: November 7, 2017
Genres: Young Adult, Contemporary
Synopsis:
Despite sending him letters ever since she was thirteen, Taliah Abdallat never thought she'd ever really meet Julian Oliver. But one day, while her mother is out of the country, the famed rock star from Staring Into the Abyss shows up on her doorstep. This makes sense – kinda – because Julian Oliver is Taliah's father, even though her mother would never admit it to her.
Julian asks if Taliah if she will drop everything and go with him to his hometown of Oak Falls, Indiana, to meet his father – her grandfather – who is nearing the end of his life. Taliah, torn between betraying her mother's trust and meeting the family she has never known, goes.
With her best friend Harlow by her side, Taliah embarks on a three-day journey to find out everything about her 'father' and her family. But Julian isn't the father Taliah always hoped for, and revelations about her mother's past are seriously shaking her foundation. Through all these new experiences, Taliah will have to find new ways to be true to herself, honoring her past and her future.
Goodreads / Amazon / Barnes & Noble  /  Book Depository
---
"I think with some people you can just tell you're going to have a
history with them. Even if that history hasn't happened yet."–Here We Are Now
Wow, Pamplemousse! I think this book found me at the right time in my life. Here We Are Now is short and expands over a few days, but I also enjoyed that flashbacks of the main character's parents falling in and out love is littered throughout the pages. I really connected with the main character Taliah, who is definitely a hard shell to crack. But I loved that although she is sarcastic, smart, and funny, she also holds a tight rope around her emotions. She is cautious with letting people in, but I liked that her journey to meet her father and his family for the very first time, opens up her world to new challenges and emotional breakthroughs. 
I don't want to give too much away in regards to the plot, because it is very straight forward and well-focused on Taliah, a teenager, meeting her father, a well-known rock star, for the very first time. And throughout the pages, Taliah pushes herself to open up to her dad, discover unknown information about her mom, and meet her long lost family. And importantly she matures and discovers things about herself. 
Here We Are Now is very straight-forward and focuses a lot on modern day scenarios, such as familial conflicts, diversity, biracial relationships, and tough love. I found myself laughing a lot during this book, because these characters are so witty and heartwarming. But there are also some parts that are heartbreaking, and these moments are so raw and gritty and realistic. In the end, I liked that the conclusion of this book leaves the characters wide open for new possibilities and room to grow, instead of a simple "happily ever after" ending. 
NOTE:  I was not provided a copy of this book by the author or the publisher in exchange for a review. I bought this book with my own funds, and I reviewed the book at my own discretion.  All statements and opinions in this review are mine.