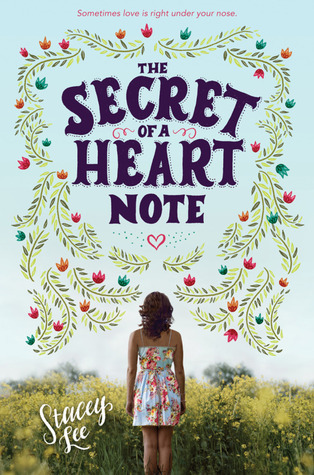 Publisher: Katherine Tegen Books
Genres: Young Adult, Contemporary, Fantasy
Format: ARC
Source: Author
About the Book:
An evocative novel about a teen aroma expert who uses her extrasensitive sense of smell to mix perfumes that help others fall in love while protecting her own heart at all costs
Sometimes love is right under your nose. As one of only two aromateurs left on the planet, sixteen-year-old Mimosa knows what her future holds: a lifetime of weeding, mixing love elixirs, and matchmaking—all while remaining incurably alone. For Mim, the rules are clear: falling in love would render her nose useless, taking away her one great talent. Still, Mimosa doesn't want to spend her life elbow-deep in soil and begonias. She dreams of a normal high school experience with friends, sports practices, debate club, and even a boyfriend. But when she accidentally gives an elixir to the wrong woman and has to rely on the lovesick woman's son, the school soccer star, to help fix the situation, Mim quickly begins to realize that falling in love isn't always a choice you can make.
At once hopeful, funny, and romantic, Stacey Lee's The Secret of a Heart Note is a richly evocative coming-of-age story that gives a fresh perspective on falling in love and finding one's place in the world.
LINKS: Goodreads | Amazon | B&N |  The Book Depository
---
My Rants and Raves of The Secret of a Heart Note
The Secret of a Heart Note by Stacey Lee is one of those books that you just want to hold against your chest and sigh after reading it. I loved how perfectly Lee grinds in elements of contemporary and romance with a dash of fantasy and magical realism. More importantly,  I enjoyed how Lee beautifully writes scenes filled with unforgettable aromas, heartfelt moments, and playful banter.
Formerly homesechooled, Mimosa ("Mim"), the main character, consumes this book with her daily routine of keeping up with her family job as an aromateur, a love witch creating matchmaking elixirs with her mom, while also balancing a "normal" high school life. Mim is a character that does not hide her concerns and worries from the reader; instead, she struggles with self-doubt, encounters self-discovery, and tries to minimize and control her attraction towards a classmate named Court. And I loved Court! Court forms a camaraderie with Mim based on their personal anxieties and broken promises that life throws at them. The pages containing the banter and conversations between Mim and Court are honest, humorous, swoony, and very heartfelt. If you love cute and very awkward flirtation, you will love these two characters.
Another component that I enjoyed in this book is the familial bonds rooted in the story. The mother-daughter relationship and the generational divide between Mim and her mom is so passionate but also strenuous. Mim's mom places a lot of expectations, particularly ancestral expectations, on Mim's shoulders throughout the novel. Mim carries on an important gift of matchmaking with her heightened sense of smell, which restricts her to enjoy very little pleasures in life. She is limited to tasteless foods and a strict declaration to avoid falling in love. The scenes that unfold between Mim and her mother adds a dash of excitation to the novel itself, and I love how their relationship unfolds in the end.
Stacey Lee's writing captures more than a romance brewing between two teenagers in this book. She has created a novel that heightens our senses on all levels. The Secret of a Heart Note is a young adult story that will fiddle with your heart, while tickling fragrances under your nose. It is a story of diversity, generational gaps, strict parental expectations, adolescent anxieties, and the understanding that love comes in all forms. This novel is refreshing and sweet–it reads as the perfect blend of crisp air with the comforting undertones of butterscotch. 
NOTE: Thank you to Stacey Lee for providing me an advance reader's copy. I was not provided any compensation for reading this book. I read this book at my own discretion. All statements and opinions are my own.