Title: When We Collided
By: Emery Lord
Release Date: April 5, 2016
Pages: 352 (Hardcover)
Publisher: Bloomsbury
Format: Print ARC
Source: Blogger book exchange
GOODREADS SUMMARY: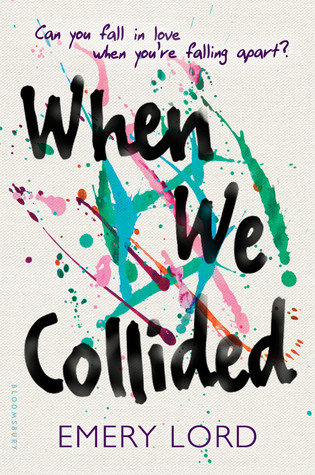 Meet Vivi and Jonah: A girl and a boy whose love has the power save or destroy them.
Vivi and Jonah couldn't be more different. Vivi craves anything joyful or beautiful that life can offer. Jonah has been burdened by responsibility for his family ever since his father died. As summer begins, Jonah resigns himself to another season of getting by. Then Vivi arrives, and suddenly life seems brighter and better. Jonah is the perfect project for Vivi, and things finally feel right for Jonah. Their love is the answer to everything. But soon Vivi's zest for life falters, as her adventurousness becomes true danger-seeking. Jonah tries to keep her safe, but there's something important Vivi hasn't told him.
Perfect for fans of E. Lockhart and Jandy Nelson, When We Collided is a powerful story of two teens whose love is put to the test by forces beyond their control.
---
MY REVIEW: 
 Poetic. Truthful. Heartbreaking. 
When We Collided is a very poetic and realistic, young adult contemporary that approaches many topics: fractured families, loss, jealousy, adulthood, mental illness, and the difficulty to dive into new friendships and hold on to old ones. 
When We Collided encompasses alternating perspectives between Vivi and Jonah. Both teenagers use their summer to explore the realities of life's adventurous embraces, but also its severe punches. 
Vivi is full of life and is rambunctious at times. Her high-spirited soul and vintage-clothing-wearing lifestyle sways the reader through a pendulum of emotions—you will love her and her positive attitude—but sometimes her danger-seeking self becomes too much for both Jonah and the reader to endure. Do you ever stick your arms out and start spinning as fast as can, and in the end you're restlessly dizzy? Vivi is that fun-loving girl that dares herself to spin and spin and spin as fast as she can. But Vivi is also that unwanted dizziness—that chaotic loss of control that you experience as you try to regain your balance and quickly make the world stand still again. 
The author, Emery Lord, strategically balances Vivi's rollicking actions with Jonah's maturity and endearing nature to take care of his family, friends, and neighbors. Jonah's life is fractured. He has suffered unbearable loss, which is barely comforted but layered with responsibilities that are beyond his years to control. Jonah is cute, lovable, and the friend that everyone wants a good hug from. Even I want to hug him and state, "that hole in your life…that hole in your heart…will always hurt, but over time that hurt will just be an ache, a constant reminder that loss can never be forgotten. But don't forget, you still have permission to laugh, cry, and live." 
I'm not going to spoil the secrets and stories that the main characters withhold from each other, but in the end, the truth is leaked and hearts are meddled with. In When We Collided, Emery Lord reminds her readers that life does not always have a happy ending, a happy beginning, or even a happy in-between; however, sometimes we are lucky to have people that insert slits of laughter and joy into our existence, and in those times, we are truly alive. 
RANTS:         I know that all books have an ending, but I honestly did not want this book to end–it was that good. When We Collided will most definitely be a re-read for me when the hardcover is released.
RAVES:          Emery Lord eloquently sets up a very well-paced, heartfelt, and lyrical story for her readers. I also enjoyed the familial interactions that Vivi experiences with Jonah's family, especially with his little sister. More importantly, I appreciated and loved how Emery effectively approaches the topics of parental loss and mental illness in a very truthful and honest manner.
NOTE:           I received this ARC through a book exchange with a fellow blogger/booklover. All statements and opinions are mine.