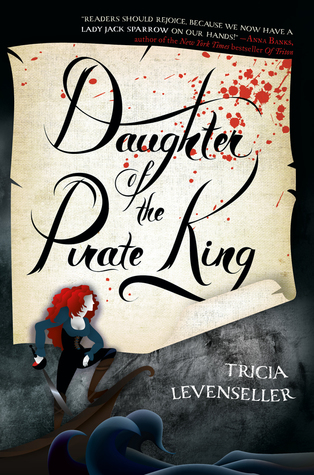 Title:  Daughter of the Pirate King
Author: Tricia Levenseller 
Publication date: February 28, 2017
Publisher:  Feiwel & Friends
Genres: Young Adult, Fantasy, Adventure, Romance
About the Book:
There will be plenty of time for me to beat him soundly once I've gotten what I came for.
Sent on a mission to retrieve an ancient hidden map—the key to a legendary treasure trove—seventeen-year-old pirate captain Alosa deliberately allows herself to be captured by her enemies, giving her the perfect opportunity to search their ship.
More than a match for the ruthless pirate crew, Alosa has only one thing standing between her and the map: her captor, the unexpectedly clever and unfairly attractive first mate, Riden. But not to worry, for Alosa has a few tricks up her sleeve, and no lone pirate can stop the Daughter of the Pirate King.
LINKS: Goodreads | Amazon | Barnes & Noble |  The Book Depository
---
HOLY MOTHER OF PEARL…I can not get over how amazing Daughter of the Pirate King is. I am not a huge pirate-themed book reader (although, Cutthroat Island is one of my favorite pirate movies), but one weekend I decided to binge read three pirate-y books, and Daughter of the Pirate King was by far my favorite out of the three. AND OHMYGOD I WANT MORE! I loved how quick-paced but steady the book read. I adored the swashbuckling characters, the surprising twists and turns, and yes, I swooned over the romance that is filled with playful bickering, irresistible kissage, and sacrifice. 
I love books that turn the tables on stereotypes, so of course, I loved that Daughter of the Pirate King portrayed a well-developed female pirate that was not a "damsel in distress."  What can I say about Alosa–one of the best female pirates I have ever read. She has all the best qualities that will make you laugh, cringe, and surprise you. She's snarky, feisty, a badass, a crafty trickster, and ignites ever page with the fire of a thousand suns. And one of the best qualities about Alosa is that she is not stagnant–instead, as her journey throws her into a whirlwind on the sea, she rolls with the punches and allows herself to analyze every situation with a new perspective. Alosa is definitely a person I would want as a pirate captain and a friend. 
I do not want to give too much away, but The Daughter of the Pirate King is filled with mysteries, twists, disguises, secrets, and the best pirate fight scenes. From beginning to end, Tricia Levenseller's book will have you enchanted and hooked. Every page is something new, something exciting, and a pure adrenaline rush of adventure, swoons, and quick-witted banter. The ending is a nail-biter, and trust me, after reading the last sentence, you will be begging for the sequel. (PLEASE, SOMEONE, GIVE ME THE SEQUEL NOW…). 
NOTE:  I was not provided a copy of this book by the author or the publisher in an exchange for a review. I bought this book with my own funds and reviewed it at my own discretion.  All statements and opinions in this review are mine.