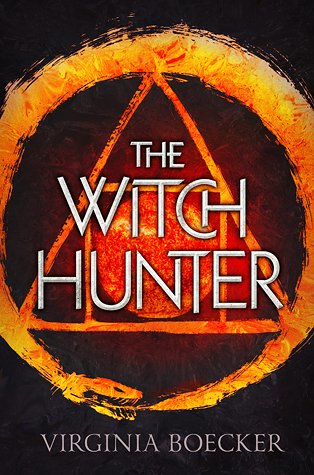 Title: The Witch Hunter
By: Virginia Boecker
Release Date: June 2, 2015
Publisher: Little, Brown Books for Young Readers
Genres: Fiction, Paranormal, Fantasy, Young Adult
Pages: 362 (Hardcover
Format: ARC
Source: Won from NOVL newsletter (2015)
Synopsis:
The magic and suspense of Graceling meet the political intrigue and unrest of Game of Thrones in this riveting fantasy debut.
Your greatest enemy isn't what you fight, but what you fear.
Elizabeth Grey is one of the king's best witch hunters, devoted to rooting out witchcraft and doling out justice. But when she's accused of being a witch herself, Elizabeth is arrested and sentenced to burn at the stake.
Salvation comes from a man she thought was her enemy. Nicholas Perevil, the most powerful and dangerous wizard in the kingdom, offers her a deal: he will save her from execution if she can break the deadly curse that's been laid upon him.
But Nicholas and his followers know nothing of Elizabeth's witch hunting past–if they find out, the stake will be the least of her worries. And as she's thrust into the magical world of witches, ghosts, pirates, and one all-too-handsome healer, Elizabeth is forced to redefine her ideas of right and wrong, of friends and enemies, and of love and hate.
Virginia Boecker weaves a riveting tale of magic, betrayal, and sacrifice in this unforgettable fantasy debut.
---
MY RANTS AND RAVES OF The Witch Hunter
The Witch Hunter is a beautifully written and action-packed, debut novel about a young girl named Elizabeth Grey. Elizabeth has grown up learning the art of witch hunting. In the craft of witch hunting, she is inculcated with the idea that she is providing justice and purification for a kingdom that she is willing to protect. However, through life's unexpectancies, Elizabeth's world is put through a whirlwind, and she finds herself being accused of witchcraft. After weeks of incarceration, she is saved by the single wizard that she was told was her worst enemy–Nicholas Perevil. In Perevil's protection, Elizabeth is healed by magic–something she was conditioned to loathe. More importantly, she discovers that she plays an important part in breaking the curse casted on Perevil by someone she trusted.
Elizabeth's journey is filled with betrayal, a handsome healer, jolly pirates, whimsical forest parties, fancy ball gowns, cursed tablets, mythical swords, giant red-eyed rats, the crumbling of old friendships, and the growth of new friendships.
The Witch Hunter is a fast-paced, fantasy novel that will engross you in an enchanting world of betrayal, redemption, and a passionate heroine set forth to change a world she once loved.
PURCHASE THIS BOOK FROM YOUR LOCAL BOOKSELLER/RETAILER 
Amazon   •     Barnes and Noble    •     Book Depository 
NOTE:          This review was previously posted on my Goodreads account in May 25, 2015, and has been updated for my blog. I received an Advance Reader's Copy (ARC) as a winner of NOVL's monthly newsletter giveaway.  Thank you, NOVL and Little, Brown Books! All statements and opinions in this review are mine.