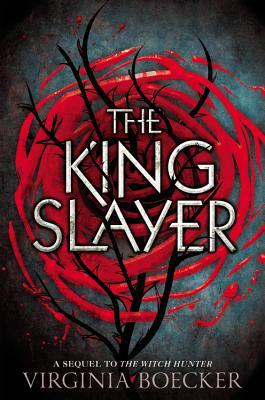 Title: The King Slayer
By:
 Virginia Boecker
Published by:
 Little, Brown Books for Young Readers
Publication date:
June 14, 2016
Genres:
 Young Adult, Fiction, Fantasy, Historical Fiction, Romance
An action-packed and suspenseful sequel to The Witch Hunter, perfect for fans of Graceling and the Grisha Trilogy.
"I think, in time, you'll either be my greatest mistake or my greatest victory."
Former witch hunter Elizabeth Grey is hiding within the magically protected village of Harrow, evading the price put on her head by Lord Blackwell, the usurper king of Anglia. Their last encounter left Blackwell ruined, but his thirst for power grows stronger every day. He's readying for a war against those who would resist his rule–namely Elizabeth and the witches and wizards she now calls her allies.
Having lost her stigma, a magical source of protection and healing, Elizabeth's strength is tested both physically and emotionally. War always means sacrifice, and as the lines between good and evil blur once more, Elizabeth must decide just how far she'll go to save those she loves.
"[Filled] with everything a good fantasy book needs: swords, poison, black magic, and betrayal."–April Tucholke, author of Between the Devil and the Deep Blue Sea, on The Witch Hunter
---
MY RANTS AND RAVES OF THE KING SLAYER
Last year, NOVL introduced me to The Witch Hunter, the prequel to The King Slayer, and I automatically fell in love with this fantasy series. This duology is deeply rooted in a magical and historical atmosphere with well-developed characters, including a strong heroine named Elizabeth Grey. As a former witch hunter and now stigma-less, I noticed that Elizabeth is more watchful of her surroundings in The King Slayer, and luckily she can still hold her own ground in a good fight.
Even though Elizabeth has lost many friends, including her family, I like that she gains a strong support system throughout the series with new friends and allies: John, Peter, Fifer, and Schuyler. I love the different types of relationships and strong connections she has with each of these characters, and it is hard for me to pick out which friendship I love the most, hahahaha. But if I had to choose, I would definitely gush about the friendship between Elizabeth and Schulyer to any reader. Not only do they have a great bond, they are also so witty and humorous together. And overall, they always have each other's backs.
Additionally, I greatly appreciated how Boecker depicted the romantic relationship between Elizabeth and John. Their kisses are swoony and captivating, and let's just say some of their steamy scenes are often left up to the reader's imagination *fans self.* I love that this couple is not always in that "honeymoon" stage where nothing goes wrong. Instead, their relationship is constantly tested. More importantly they test each other's boundaries, patience, and loyalties. I appreciate that they completely understand that with love comes upsets, sacrifice, loss, and heartache. Elizabeth and John are definitely one of my favorite fantasy book couples, because they are honest, stubborn, and they wholeheartedly love each other.
In regards to some people from Elizabeth's past, ones that she thought were long gone, they show up in the most surprising twists in The King Slayer, which leaves Elizabeth vulnerable and cautious. Blackwell is still as evil as ever, continuing to selfishly mistreat magic. In my opinion, Elizabeth does not always make the most rational choices when it comes to fighting Blackwell, but I appreciate that her actions and words show that she respects magic and its consequences.
Overall, I liked that The King Slayer is steady-paced, allowing each chapter to slowly tick like a clock to the next prominent scene. Every chapter of this book is usefully articulated to enhance an adventurous plot, build suspense, and develop some of the most memorable and caring characters. I love that the book focuses on friendships, and lightheartedly showcases friendships between witches, pirates, soldiers, revenants, and common folk. I thoroughly enjoyed reading The King Slayer, and this series overall. I look forward to reading anything and everything Virginia Boecker writes in the future.
NOTE:          I received this Advance Reader's Copy (ARC) through a book trade with a fellow blogger. I was not provided a copy of this book by the author or the publisher for a review. All statements and opinions are mine.