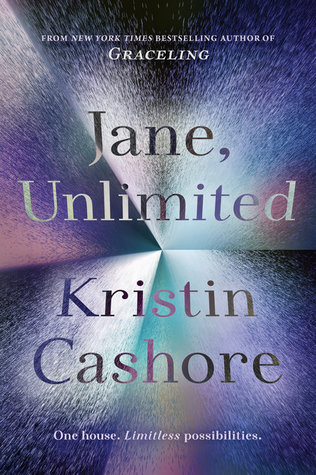 Title: Jane, Unlimited
Author: Kristin Cashore
Publication date: September 19, 2017
Publisher: Kathy Dawson Books
Genres: Young Adult, Fantasy, Mystery
Synopsis
Jane has lived an ordinary life, raised by her aunt Magnolia—an adjunct professor and deep sea photographer. Jane counted on Magnolia to make the world feel expansive and to turn life into an adventure. But Aunt Magnolia was lost a few months ago in Antarctica on one of her expeditions.
Now, with no direction, a year out of high school, and obsessed with making umbrellas that look like her own dreams (but mostly just mourning her aunt), she is easily swept away by Kiran Thrash—a glamorous, capricious acquaintance who shows up and asks Jane to accompany her to a gala at her family's island mansion called Tu Reviens.
Jane remembers her aunt telling her: "If anyone ever invites to you to Tu Reviens, promise me that you'll go." With nothing but a trunkful of umbrella parts to her name, Jane ventures out to the Thrash estate. Then her story takes a turn, or rather, five turns. What Jane doesn't know is that Tu Reviens will offer her choices that can ultimately determine the course of her untethered life. But at Tu Reviens, every choice comes with a reward, or a price.
LINKS:   Goodreads | Amazon | Barnes & Noble |  The Book Depository
---
Welcome to my Penguin Teen tour stop for Jane, Unlimited by Kristin Cashore. In this post, I have pickedtwo of my favorite characters in Jane, Unlimited and paired them with what I think are the perfect tea flavors based on their personalities and traits.
Please note both teas are based off drinks that I have ordered at Starbucks or come across while visiting other coffee/tea shops. I have no affiliation with the company. I just love Starbucks, tea, and literary characters. For your own benefit, I have linked the noted tea drink to its ingredient page.
While I was reading Jane, Unlimited, I became obsessed with Starbucks' London Fog tea latte. This tea is refreshing and calming just like the main character Jane. I love that Jane is very sarcastic, observant, and so quick-witted. And in comparison to this tea blend, Jane often comes off sweet, but this daring heroine also has a striking boldness to her. 
The scenes in Jane, Unlimited are limitless, and one of my favorite parts of the book was the focus on the friendship that develops between Jane and the basset hound, Jasper. Jasper is like a sweet sip of a Chai Tea Latte. This loyal dog is very protective, brave, and is not afraid to protect Jane from art thieves. Throughout the novel, Jasper proves to be an excellent companion (and an "excellent speller"…hahaha), and in comparison to the noted Chai Tea Latte, Jasper is warm and comforting.
GIVEAWAY LEGAL:
Enter for a chance to be one (1) of three (3) winners to receive a hardcover copy of Jane, Unlimited by Kristin Cashore. (ARV: $18.99 each).
NO PURCHASE NECESSARY. Enter between 

12:00 AM

 Eastern Time on September 11, 2017 and 

12:00 AM on October 9, 2017

.  Open to residents of the fifty United States and the District of Columbia who are 13 and older. Winners will be selected at random on or about 

October 11, 2017

. Odds of winning depend on number of eligible entries received. Void where prohibited or restricted by law.

Kristin Cashore grew up in the northeast Pennsylvania countryside as the second of four daughters. She received a bachelor's degree from Williams College and a master's from the Center for the Study of Children's Literature at Simmons College, and she has worked as a dog runner, a packer in a candy factory, an editorial assistant, a legal assistant, and a freelance writer. She has lived in many places (including Sydney, New York City, Boston, London, Austin, and Jacksonville, Florida), and she currently lives in the Boston area. Her epic fantasy novels set in the Graceling Realm–Graceling, Fire, and Bitterblue–have won many awards and much high praise, including picks as ALA Best Books for Young Adults, School Library Journal Best Book of the Year, Booklist Editors Choice, and Publishers Weekly Best Book of the Year. In addition, Graceling was shortlisted for the William C. Morris Debut Award and Fire is an Amelia Elizabeth Walden Book Award Winner.