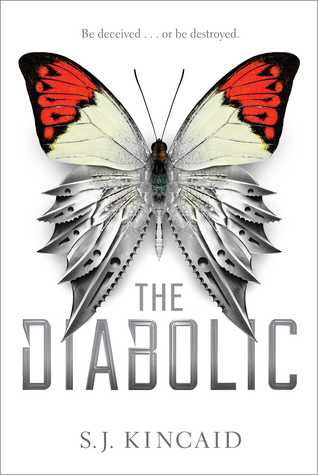 Title: The Diabolic
Author: S.J. Kincaid
Publication date: November 1, 2016
Publisher:  Simon & Schuster Books for Young Readers
Genres: Young Adult, Science Fiction, Fantasy
ABOUT THE BOOK:
A Diabolic is ruthless. A Diabolic is powerful. A Diabolic has a single task: Kill in order to protect the person you've been created for. Nothing else.
For Nemesis, that person is Sidonia, heir to the galactic Senate. The two grew up side by side, and there's no one Nemesis wouldn't kill to keep her safe. But when the power-mad Emperor summons Sidonia to the Imperial Court as a hostage, there is only one way for Nemesis to protect Sidonia.
She must become her.
Now one of the galaxy's most dangerous weapons is masquerading in a world of corrupt politicians and two-faced Senators' children, and Nemesis must find within herself the one thing she's been told she doesn't have—humanity. With the Empire beginning to fracture and rebellion looming, that could be the one thing that saves her and the Empire itself.
LINKS: Goodreads | Amazon | B&N |  The Book Depository
---
As an avid reader of science fiction books, I could not wait to dive into The Diabolic. However, this book did not live up to the high expectations I had for it. Overall, the book started off very slow for me but I did like the ending (no spoilers though). It took me a good 100 pages to finally enjoy the plot, and even after those pages I still felt like I was walking on eggshells every time I turned the page. Due to all the violence and what I believe to be several "unnecessary" deaths (GRRR!!!), some parts of the story made me irritated, cringe, or want to throw the book across the room.
Also, I was not a big fan of the main character, Nemesis. I cannot put my finger on it, but she just rubbed me the wrong way. For a character that was supposed to hold very "little" emotion, she was an emotional wreck and all over the place. Whenever I started to like her character, she would go and do something that made my "eyes roll." Ugh, get it together Nemesis.
But in the end, I did not walk away from The Diabolic with regret. I mean there has to be a reason why I gave the book a 3-star rating, right? Well, you guys, I was utterly in love with the character Tyrus–a very smart and calculating person with the most swoony lines and scenes. Tyrus carried me through this book and I'm most grateful for his rebellious actions. If the book was solely told through Tyrus' voice, I would probably have given the book 5 stars, and none for you Glen Coco…I mean Nemesis. 
Even though The Diabolic was slowly drawn out in the beginning, overall I liked where the book went in the end, and I would LOVE to read more of Tyrus in future books. 
NOTE:  I was not provided a copy of this book by the author or the publisher in an exchange for a review. I received this book as a gift from a friend and reviewed it at my own discretion.  All statements and opinions in this review are mine.