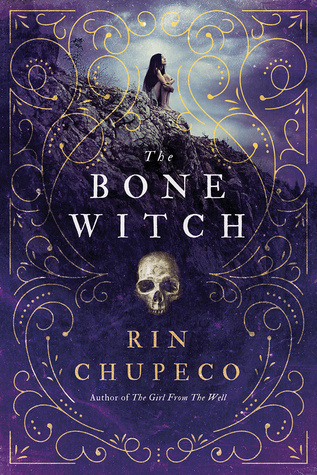 Title: The Bone Witch
Author: Rin Chupeco
Publication date: March 7, 2017
Publisher:  Sourcebooks Fire
Genres: Young Adult, Fantasy, Paranormal
Format: e-ARC/Netgalley
ABOUT THE BOOK:
The beast raged; it punctured the air with its spite. But the girl was fiercer.
Tea is different from the other witches in her family. Her gift for necromancy makes her a bone witch, who are feared and ostracized in the kingdom. For theirs is a powerful, elemental magic that can reach beyond the boundaries of the living—and of the human.
Great power comes at a price, forcing Tea to leave her homeland to train under the guidance of an older, wiser bone witch. There, Tea puts all of her energy into becoming an asha, learning to control her elemental magic and those beasts who will submit by no other force. And Tea must be strong—stronger than she even believes possible. Because war is brewing in the eight kingdoms, war that will threaten the sovereignty of her homeland…and threaten the very survival of those she loves.
LINKS: Goodreads | Amazon | B&N |  The Book Depository
---
This is a story about a girl named Tea.
No, not like the drink, but "Tey-uh," instead.
She loved her brother, Fox, so much, that she raised him from the dead.
Now necromancy is not a praised trick.
Instead of being in awe of her magic,
Her village called her a bone witch.
Though her witchcraft could help heal sickness and hearts,
A bone witch was feared most of all,
Because no one understands their darkness and their art.
Tea is forced to leave her village, family, and friends.
She is taken under the wing of another bone witch,
Where she starts a new life with a darkening power to spin.
Summoning the dead can be seductive and dark.
Tea is told by strangers that she is soulless from the start.
But our heroine is fierce and remains protective over her heart.   
With the rare gift of death magic, Tea can control others' minds.
She has the ability to conquer monsters, dragons, the Faceless, and spies. 
But her gift comes with limitations, and love and trust is not easy to find. 
Although this story is very slow in pace,
It is the love interests that might keep you vested and make your heart race.
Or maybe you will fall for the boy who loves to dance and dress in lace.   

Tea's story is filled with twists and turns; a bewitching tale so deep.
She's infatuated with a Prince, so prepare yourself for a romance that slowly reaps. 
And I promise you this, when you begin The Bone Witch, you will find no time to sleep. 
NOTE: Thank you to Netgalley and Sourcebooks Fire  for providing me an e-galley/e-ARC of this book in exchange for an honest review. All statements and opinions are my own.