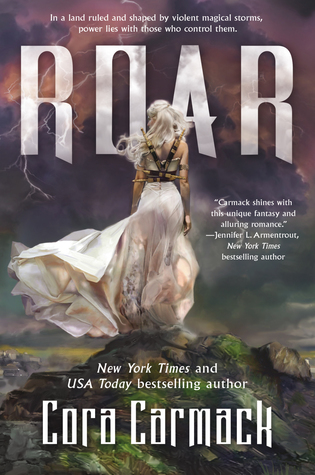 Title: ROAR
Author: Cora Carmack
Publication date: June 13, 2017
Publisher:  Scholastic
Genres: Young Adult, Fantasy,Romance
About the Book:
In a land ruled and shaped by violent magical storms, power lies with those who control them.
Aurora Pavan comes from one of the oldest Stormling families in existence. Long ago, the ungifted pledged fealty and service to her family in exchange for safe haven, and a kingdom was carved out from the wildlands and sustained by magic capable of repelling the world's deadliest foes. As the sole heir of Pavan, Aurora's been groomed to be the perfect queen. She's intelligent and brave and honorable. But she's yet to show any trace of the magic she'll need to protect her people.
To keep her secret and save her crown, Aurora's mother arranges for her to marry a dark and brooding Stormling prince from another kingdom. At first, the prince seems like the perfect solution to all her problems. He'll guarantee her spot as the next queen and be the champion her people need to remain safe. But the more secrets Aurora uncovers about him, the more a future with him frightens her. When she dons a disguise and sneaks out of the palace one night to spy on him, she stumbles upon a black market dealing in the very thing she lacks—storm magic. And the people selling it? They're not Stormlings. They're storm hunters.
Legend says that her ancestors first gained their magic by facing a storm and stealing part of its essence. And when a handsome young storm hunter reveals he was born without magic, but possesses it now, Aurora realizes there's a third option for her future besides ruin or marriage. 
She might not have magic now, but she can steal it if she's brave enough. 
Challenge a tempest. Survive it. And you become its master.
LINKS: Goodreads | Amazon | Barnes & Noble|  The Book Depository
---
***Warning: This review contains some spoilers. ***
Wow, ROAR is the high fantasy young adult book that I did not know I had been yearning for. Everything from the elaborately described world and clothing all the way to the unique Stormling magic had me hooked. And OHMYGOD, do not get me started on the well-developed and fantastically written characters. With every page scorched with complex characters and enthralling scenes, I highly recommend that you pick up ROAR and prepare yourself for an action-packed journey that follows a heroine worthy of all the praise.
In regards to Roar, our main character, she is not set up as the literary snowflake: a character that is special and is destined to save the world. Honestly, she is a princess that knows she is supposed to hold an innate, ancestral power. She knows that she is supposed to have the gift of a Stormling, allowing her the ability to protect her kingdom from the wreck of storms, but for some reason her powers have remained dormant. Roar is often depicted as innocent and inexperienced, but she is also feisty and headstrong. I really liked that she initiates and holds strong to the idea that she must work hard and go beyond the palace walls to understand her powers (or lack of). Instead of waiting for her powers to come to her, she goes out to find them. YES *air fist pump*!!! 
In reference to the romance aspect of ROAR, I was deeply in swoons and sighs. I really enjoyed the chemistry between Roar and Locke, a character who has the gift of Stormling magic but was not born with it. Locke gives Roar hope that she can awaken her innate power, but more importantly I like that he challenges her mentally, physically, emotionally, and magically. One of my favorite parts of watching their friendship grow is that they are both stubborn characters, so of course, I fell in love with their banter and arguments. And as this fantastical story unfolds, their friendship also starts to twist into something new.
At the beginning of ROAR, I thought there was a love triangle brewing, but thankfully that theory is washed away. But I still wasn't 100% on board for a feisty friendship to twist into a romantic relationship. Do not get me wrong, I love stories that encompass romance and hot, swoony scenes, but once these two characters, Roar and Locke, become something more than friends, their chemistry became irritatingly fluffy. Locke's ability to challenge Roar slowly fades and I honestly was not a fan that once the kissing scenes start, he begins to coddle and become overly protective of Roar. UGH, no! Yes, she is often portrayed as vulnerable, but come on Locke, Roar is not defenseless;  she is bold and fierce–there is lightning in her heart and she is ready to strike.
Not only are the main characters well-developed, but the side characters are also unforgettable. Roar is surrounded by all walks of life. And on her journey of discovery, she is given the chance to befriend a group of unique and crazy bandits: a witch, a trickster, and a stealthy spy, to name a few. These individuals challenge Roar and give her an outlet to explore the world outside the palace walls with a new lens. 
Another raving part that I liked about ROAR is the ending. Usually fantasy books end in a gut-wrenching cliffhanger; instead, ROAR ends with hope and a swift glance at an upcoming battle. AHHH!!! So if you are ready for one of the most well-thought out series littered with secrets waiting to be uncovered,  a book with the strongest storms to battle along with many twists and turns, I highly recommend ROAR as your next read. Prepare yourself for an addicting read of perilous magic, steamy kissing scenes, and a group of outlaws worth cheering for. 

Cora Carmack is a New York Times and USA Today bestselling author. Since she was a teenager, her favorite genre to read has been fantasy, and now she's thrilled to bring her usual compelling characters and swoon-worthy romance into worlds of magic and intrigue with her debut YA fantasy, Roar. Her previous adult romance titles include the Losing It, Rusk University, and Muse series. Her books have been translated into more than a dozen languages around the world. Cora splits her time between Austin, TX and New York City, and on any given day you might find her typing away at her computer, flying to various cities around the world, or just watching Netflix with her kitty Katniss. But she can always be found on Twitter, Facebook, Instagram, Pinterest, and her website www.coracarmack.com.
Website | Facebook | Twitter | Instagram | Pinterest | Goodreads
NOTE: Thank you to Netgalley and TOR Teen for providing me an e-galley/e-ARC of this book in exchange for an honest review. All statements and opinions are my own.