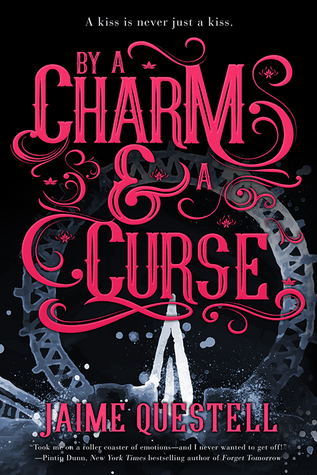 Title: By a Charm & A Curse
Author:  Jaime Questell
Published by: Entangled: Teen
Publication date: February 6, 2018
Genres: Young Adult, Fantasy, Romance
Synopsis:
Le Grand's Carnival Fantastic isn't like other traveling circuses. It's bound by a charm, held together by a centuries-old curse, that protects its members from ever growing older or getting hurt. Emmaline King is drawn to the circus like a moth to a flame…and unwittingly recruited into its folds by a mysterious teen boy whose kiss is as cold as ice.
Forced to travel through Texas as the new Girl in the Box, Emmaline is completely trapped. Breaking the curse seems like her only chance at freedom, but with no curse, there's no charm, either—dooming everyone who calls the Carnival Fantastic home. Including the boy she's afraid she's falling for. 
Everything—including his life—could end with just one kiss.
Goodreads / Amazon / Barnes & Noble  /  Book Depository
---
Hi everyone, welcome to my first ever "Question & Answer" Author post….EEEEK! Today, I am interviewing the amazing and talented writer Jaime Questell, the author of By A Charm & A Curse. You can see my review of the book

HE

RE

. But without further ado, it's time for the main show! 

1.      Describe By A Charm & A Curse in one sentence.
J.Q.: A story about a girl trapped in a carnival's curse, forced to either transfer it or break it before the life of the boy she loves is endangered.
2.      How did the idea of the book originate? Which came first: the characters, the world, or the plot?
J.Q.: The first thing I had was a girl falling from a great height. Then I asked myself why she was falling, from where did she fall and did she survive? Magic, that was how she survived. Everything spun out of that image and the answers to those questions.
3.      Did you do any research for the book? If so, what was the oddest or weirdest thing you found in your research?
J.Q.: I did! I researched terminology and looked up old pictures of circuses and carnivals. I don't know if I'd call it odd, but I will say I found the photos of abandoned carnival rides strangely pretty. I tried to work in some of that haunting creepiness into my book.
4.      If you could have dinner with one of your characters, who would you pick and why?
J.Q.: I would totally have dinner with Leslie. Aside from the fact that that woman probably needs a break, I think that she's seen so much over the years and would have the best stories to tell. 
Let's talk about you…
1.      What's one fun fact that most people don't know about you?
J.Q.: I have the biggest, most ridiculous nail polish collection. I'm sure that there are some people who have more, but mine merits its own piece of furniture. 😀
2.      What was your favorite part about writing this book? What was your least favorite part about the writing process?
J.Q.: I loved working in the little touches of magic. I knew my world didn't have the sparkles-and-faeries everywhere kind of magic, so slipping it in here and there became a fun game I played with myself. And the least favorite part was probably the revisions at the end. There comes a point where even though you know you're working to make your book better, you're so sick of your own words that you don't want to look at them anymore. 
3.      If you were to trade places with Melissa McCarthy in this .gif, which book/books are your always insisting people to read? 
J.Q.: Hahaha, first of all, this GIF is hilarious. Second, I think it would be anything by Leigh Bardugo. She writes beautiful stories in these fully-fleshed out worlds that feel so lush and so well-thought out. As someone who struggles with world building, I admire this greatly. 
4.      Do you have any plans to write a sequel, companion novel, or another book set in a different world? If so, can you give us any hints about the synopsis?
J.Q.: I'll never say never, but at the moment, I don't have any plans. But, if I did, I could imagine a spin-off with Marcel and Whiskey taking the lead. 
A huge "THANK YOU" to Jaime for taking the time to answer my questions; you are a rockstar! If you haven't yet read By A Curse & A Charm, please prepare yourself for a dark morsel of carnival curses and magical shenanigans.