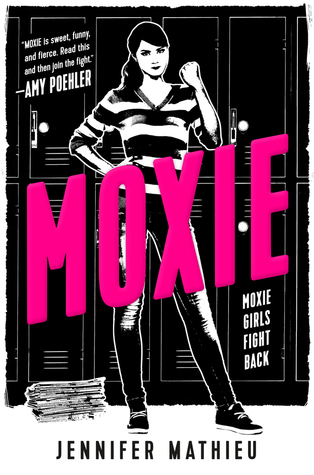 Title: Moxie
Author: Jennifer Mathieu
Publication date: September 19, 2017
Publisher: Roaring Brook Press/ Macmillan Children's Publishing Group
Genres: Young Adult, Contemporary, Feminism
About the Book:
An unlikely teenager starts a feminist revolution at a small-town Texan high school in the new novel from Jennifer Matheiu, author of The Truth About Alice.

MOXIE GIRLS FIGHT BACK!
Vivian Carter is fed up. Fed up with a school administration at her small-town Texas high school that thinks the football team can do no wrong. Fed up with sexist dress codes, hallway harassment, and gross comments from guys during class. But most of all, Viv Carter is fed up with always following the rules.
Viv's mom was a tough-as-nails, punk rock Riot Grrrl in the '90s, and now Viv takes a page from her mother's past and creates a feminist zine that she distributes anonymously to her classmates. She's just blowing off steam, but other girls respond. As Viv forges friendships with other young women across the divides of cliques and popularity rankings, she realizes that what she has started is nothing short of a girl revolution.
Moxie is a book about high school life that will make you wanna riot!
LINKS: Goodreads | Amazon | Barnes & Noble |  The Book Depository
---
WHOA! You guys, Moxie by Jennifer Mathieu is so powerful, straight-forward, and the type of book we need in this fist-gripping-teeth-clenching year that we call 2017. I'm not going to lie, I came into this book for a feminist read AND I left the book invigorated, energized, and ready to take on the world. 
Moxie's main character, Viv is relate-able on so many levels. She is a good student that never falls out of line and always does what she is told. But she also has a knack for being an alert listener and keen observer. I love that she turns to music for escapism and courage. I love that her mom is her role model. And what I really liked about Viv's character is how determined and courageous she is, even if she is cautious and over-analyzes all her choices and decisions (because who does not do this?). Viv is stealthy, determined, fiesty, funny, and overall, a kickass character.
And I cannot forget about one of my favorite Moxie characters, Seth. As Viv's crush and a guy that treats her with respect, I was silently shouting in my head, "this is what a male feminist looks like." His actions and words never fail to positively impact the book and Viv, herself. Seth is still trying to understand the world around him and he knows he has a lot to learn when it comes to feminism. I love that he opens up his mind and world to question authority, male privilege, and social viewpoints. Seth is not perfect but he never fails to take the steps to understand social injustices–he observes, questions, and reacts. 
In Moxie, Mathieu's words not only heighten the awareness of sexism, sexual harassment, and rape in a high school setting, but she also provides a outlet for her female characters to  speak out about injustice, take charge, and push against those who downplay equality and social rights. Moxie is more than a "feminist" book. It is a story about maturity, making hard choices, and discovering who you and how you would act in certain situations. This book is equal parts funny and inspiring and awesome and empowering. It is definitely a book that you do not want to pass over this year (or ever).
NOTE: Thank you to Netgalley and Macmillan for providing me an e-galley/e-ARC of this book in exchange for an honest review. All statements and opinions are my own.