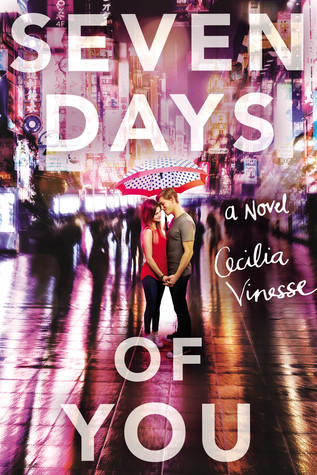 Title: Seven Days of You
Author: Cecilia Vinesse
Publication date: March 7, 2017
Publisher: Little, Brown Books for Young Readers
Genres: Young Adult, Contemporary, Romance
Format: ARC
Source: Won in NOVL's February NOVLBox curated by Poppy
ABOUT THE BOOK:
Sophia has seven days left in Tokyo before she moves back to the States. Seven days to say good-bye to the electric city, her wild best friend, and the boy she's harbored a semi-secret crush on for years. Seven perfect days…until Jamie Foster-Collins moves back to Japan and ruins everything.
Jamie and Sophia have a history of heartbreak, and the last thing Sophia wants is for him to steal her leaving thunder with his stupid arriving thunder. Yet as the week counts down, the relationships she thought were stable begin to explode around her. And Jamie is the one who helps her pick up the pieces. Sophia is forced to admit she may have misjudged Jamie, but can their seven short days of Tokyo adventures end in anything but good-bye?
LINKS: Goodreads | Amazon | B&N |  The Book Depository
---
MY RANTS AND RAVES OF SEVEN DAYS OF YOU
As a mood reader, winter always leaves me in a reading funk. I wasn't too sure if I was in the mood for a contemporary book, but I am so glad I picked up Seven Days of You by Cecilia Vinesse. You guys, I read this book in less than one day; I just could not put it down! The storyline is quick-paced, realistic, and so adorable.
I loved how Seven Days of You took me out of the routine of contemporary books. Instead of basing this love-story in America, England, or even France, this book inserts you in a Japanese setting, building on a culture that I'm not too familiar with. The author does a great job of touring her readers around a city and culture that loves amazing food, parks, monuments, and karaoke bars (who knew?!). Vinesse doesn't overwhelm you with descriptions, but she provides enough details that makes you yearn to visit Japan and learn more about the Japanese culture. This book will consume you with wanderlust, and a great thrill and hunger to visit Japan.
Additionally, I liked how the main character, Sofia, is portrayed  in the novel. She is not set up as a cute, angsty teen girl. In one week, Sofia is thrown in a whirlwind of emotions and change. I really enjoyed her perspective and thoughts on her inevitable move. I was too wrapped up in Sofia's concerns and troubles to even step away from this book. I liked that she owns up to her own flaws and insecurities; more importantly, Sofia portrays a mindset of wanting to grow and understand the world around her. Instead of wallowing in self-pity, she tries to use her last week in Japan as a means to create new memories, while also cherishing the memories and friendships she has already made. Sofia is not only saying goodbye to a country she loves, but she is also saying goodbye to her best friends, and a potential relationship with someone she likes, Jamie. Although Sofia and Jamie have a past of misunderstandings and heartbreak, I was really immersed in how honest, sweet, and patient they were to each other.
Seven Days of You is very emotion driven. As Sofia is wrapping up her life in Japan, I was very invested in every fight, fear, tear, and flashback that she encounters before her departure. I loved how quick-paced the book read, and even though there is more drama invested in this book than I have ever encountered in my own life, the story wraps up in the most realistic and sentimental way. At times I thought the story portrayed some typical Young Adult literature cliches, but overall I liked how different Sofia's life was compared to most people her age. Her life is complex but her story is rich with lasting friendships, strong female role models, swoony moments, and opportunities to grow. 
NOTE: Thank you to NOVL for providing me an advance reader's copy of this book in their February 2016 NOVL Box curated by Poppy. I was not asked or compensated to review this book. I read this book at my own discretion. All statements and opinions are my own.