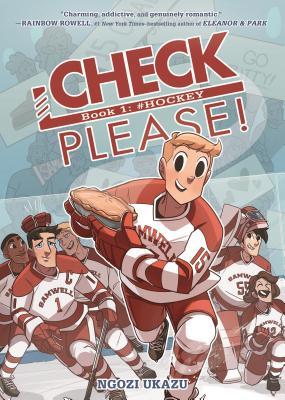 Title: Check, Please!: #Hockey, Vol. 1
Author:  Ngozi Ukazu
Publisher: First Second
Release Date: September 18, 2018
Genres: Young Adult, Graphic Novel, LGBT, Sports
Synopsis:
Helloooo, Internet Land. Bitty here!
Y'all… I might not be ready for this. I may be a former junior figure skating champion, vlogger extraordinaire, and very talented amateur pâtissier, but being a freshman on the Samwell University hockey team is a whole new challenge. It's nothing like co-ed club hockey back in Georgia! First of all? There's checking. And then, there is Jack—our very attractive but moody captain.
A collection of the first half of the megapopular webcomic series of the same name, Check, Please!: #Hockey is the first book of a hilarious and stirring two-volume coming-of-age story about hockey, bros, and trying to find yourself during the best four years of your life.
---
AHHH! I highly enjoyed Check, Please!: #Hockey, Vol. 1. It's cute and swoony and funny. Bitty, the main character, has the most honest and sweetest personality. I love how positive Bitty is, and I really enjoyed him talking directly to his vlogging audience (us the readers) with updates on his life, cooking adventures, and friends.
Through each page, Bitty provides the most joyful and welcoming commentary on his college experiences, what it's like to go from a figure skater to joining a hockey team, and creating new friends who he is very hesitant to tell that he is gay. Bitty's personality is engaging and his story is like a welcoming warm hug.
Definitely give this graphic novel a read if you love to laugh and swoon and eat pie…YUM. 
Note: Thank you to First Second for providing me an ARC to read and review for free in exchange of an honest review. All statements and opinions are my own.