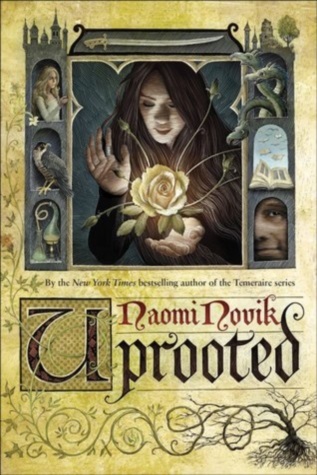 Title: Uprooted
Author: Naomi Novik
Publisher: Del Rey
Release Date: May 19, 2015
Genres: Young Adult/Adult, Fantasy, Romance
Synopsis:
"Our Dragon doesn't eat the girls he takes, no matter what stories they tell outside our valley. We hear them sometimes, from travelers passing through. They talk as though we were doing human sacrifice, and he were a real dragon. Of course that's not true: he may be a wizard and immortal, but he's still a man, and our fathers would band together and kill him if he wanted to eat one of us every ten years. He protects us against the Wood, and we're grateful, but not that grateful."
Agnieszka loves her valley home, her quiet village, the forests and the bright shining river. But the corrupted Wood stands on the border, full of malevolent power, and its shadow lies over her life.
Her people rely on the cold, driven wizard known only as the Dragon to keep its powers at bay. But he demands a terrible price for his help: one young woman handed over to serve him for ten years, a fate almost as terrible as falling to the Wood.
The next choosing is fast approaching, and Agnieszka is afraid. She knows—everyone knows—that the Dragon will take Kasia: beautiful, graceful, brave Kasia, all the things Agnieszka isn't, and her dearest friend in the world. And there is no way to save her.
But Agnieszka fears the wrong things. For when the Dragon comes, it is not Kasia he will choose.
---
Uprooted reads like a dark fairy-tale that ignites the most luminous story of courage, female empowerment, whimsical magic, and a hint of romance. I read this book back in November 2015 and this year I decided to do a re-read, because honestly I cannot get this story or the characters out of my head. And once again, I savored Uprooted to the very end.
Every chapter of Uprooted is captivating and beautifully written. The main character, Agnieszka, is a fierce heroine that is very in tune with her natural ability to be bold and selfless. I loved that Agnieszka is portrayed as being very intuitive to her magical gifts, but she never tries to outshine those around her. She observes, learns, and reacts with her instincts. Although her teacher, the Dragon, often gets irritated with her  because she doesn't stick to the rule book of magic, you can definitely see that he respects and cares for her. 
Along with Uprooted being an enchanting, fairy-tale-esque  story, the book also contains a slow-burn romance that will make your insides tingle. I loved reading the pages where Agnieszka and the Dragon argue and banter. The chemistry between these two characters is deeply rooted with passion, care, and respect for each other. 
I also want to rave about the portrayal of female empowerment in Uprooted. While men in the novel try to play by traditional (patriarchal) standards and set rules, the female characters listen to their intuition and solve problems by their innate reactions. The female characters do not try to cut each other down. Instead they work together, often becoming each other's saviors instead of the men being the "knights in shining armor." 
Overall, once again, I loved every second of Uprooted. The magic is dark but the characters are incredibly stunning. I really enjoyed the whimsical twists and gruesome turns. But most of all, I love that the quiet, simple girl doesn't get lost in the pages or overshadowed by potential heroes;  instead she uses her fears, instincts, and vulnerabilities as strengths to conquer evil. 
Note:   I was not provided a copy of this book by the author or the publisher in exchange for a review. I bought this book with my own funds, and I reviewed the book at my own discretion.  All statements and opinions in this review are mine.