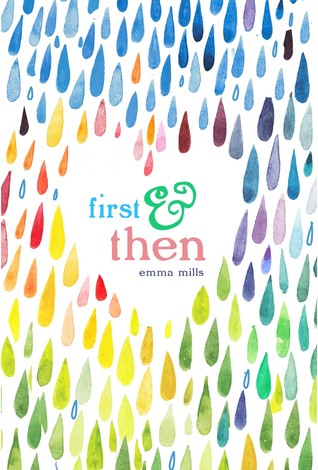 Title: First & Then
Author: Emma Mills
Publisher: Henry Holt and Co
Release Date: October 13, 2015
Genres: Young Adult, Contemporary 
Synopsis:
Devon Tennyson wouldn't change a thing. She's happy watching Friday night games from the bleachers, silently crushing on best friend Cas, and blissfully ignoring the future after high school. But the universe has other plans. It delivers Devon's cousin Foster, an unrepentant social outlier with a surprising talent for football, and the obnoxiously superior and maddeningly attractive star running back, Ezra, right where she doesn't want them: first into her P.E. class and then into every other aspect of her life.
Pride and Prejudice meets Friday Night Lights in this contemporary novel about falling in love with the unexpected boy, with a new brother, and with yourself.
---
This is a "second chance" read for me. Back in late 2015, I read First & Then and rated it at a 2/5 stars. At that time, I stated in my short Goodreads review that I could not connect with the story or the characters. Now fast forward to 2018! I re-read First & Then and OHHHHMYYYGOD . . . I don't even know what was wrong with my past self. So in regards to my re-read, I adored First & Then, and I am so happy I gave the book a second chance. 
It's quite possible that I could not relate to First & Then back in 2015, because I am not a football fan. But last year, I binged watched Friday Night Lights and fell in love with the show, the drama, and maybe (just maybe) I started liking football. Add in the swoons, a dash of Prejudice and Prejudice appreciation, and an adorable cousin friendship, and voilà First & Then won me over. 
Overall, First & Then is a quick read and it comes with two of my favorite reading criterion: angst and warm fuzzies. Devon, the main character, and Ezra, her "nemesis," have great chemistry throughout the book and the storytelling definitely won me over. I love that Emma Mills portrays her characters with flaws and vulnerabilities, making the story more vibrant and realistic. I am so glad I gave this book a second chance and I highly recommend that if you are fan of romantic contemporary books, First & Then is for you. 
Note:   I was not provided a copy of this book by the author or the publisher in exchange for a review. I bought this book with my own funds, and I reviewed the book at my own discretion.  All statements and opinions in this review are mine.