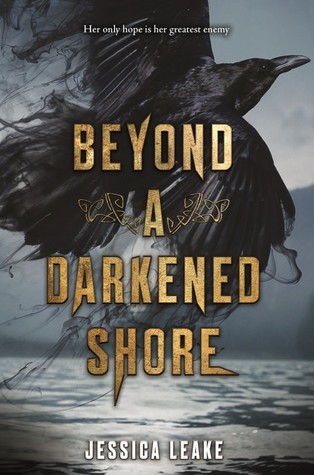 Title: Beyond A Darkened Shore
Author: Jessica Leake
Publisher: HarperTeen
Release Date: April 10, 2018
Genres: Young Adult, Fantasy, Mythology
Synopsis:
The ancient land of Éirinn is mired in war. Ciara, Princess of Mide, has never known a time when Éirinn's kingdoms were not battling for power, or Northmen were not plundering their shores. 
The people of Mide have thankfully always been safe because of Ciara's unearthly ability to control her enemies' minds and actions. But lately, a mysterious crow has been appearing to Ciara, whispering warnings of an even darker threat. Although her clansmen dismiss her visions as pagan nonsense, Ciara fears this coming evil will destroy not just Éirinn, but the entire world. 
Then the crow leads Ciara to Leif, a young Northman leader. Leif should be Ciara's enemy, but when Ciara discovers that he, too, shares her prophetic visions, she knows he's something more. Leif is mounting an impressive army, and with Ciara's strength in battle the two might have a chance to save their world. 
With evil rising around them, they'll do what it takes to defend the land they love…even if it means making the greatest sacrifice of all.
---
This year has been the year for Viking books, and I was so excited to finally sit down and read Beyond A Darkened Shore. I love the cover because I am a sucker for anything with birds on it, and the synopsis kept screaming, "Cassie, you need to read this!" Sadly, after struggling and forcing myself to finish, I did not end up loving the book. Beyond A Darkened Shore had some good twists, turns, and "whoa" moments, but in the end, the story and the characters did not win me over. 
Ciara, the main character, is a fierce warrior and holds a lot of responsibility on her shoulders. Throughout Beyond A Darkened Shore, she has to be physically and mentally strong for her little sisters. But as she starts learning more and more about her past and the people that she believed to be her "enemy," she starts opening her eyes to a new world and embracing her magic that is frowned upon by her community. However, throughout the book, I always felt like Ciara was holding herself back. In many chapters, Ciara seemed to be pulling herself away from moving in a positive direction in many aspects of her life. Her hindrance and actions often left the story stagnant, which left me debating on if I should actually finish the book.
One of my favorite parts of Beyond A Darkened was the high potential of a enemies-to-lovers relationship (one of my favorite tropes to read). I did enjoy reading the scenes where Ciara interacts with her nemesis, Leif. Their friendship and relationship is great to watch blossom throughout the chapters, but they also have this playful banter that's hard to ignore. However, even though I was a fan of the potential romantic aspects of the Beyond A Darkened Shore, the book fell short for me. Beyond A Darkened Shore didn't blow me away, but the unraveled truths and twists at the end of the book did make me hopeful that if there was ever a second book, Ciara's character will be developed more, and we can get more Leif and Ciara scenes. 
Note:   I was not provided a copy of this book by the author or the publisher in exchange for a review. I bought this book with my own funds, and I reviewed the book at my own discretion.  All statements and opinions in this review are mine.