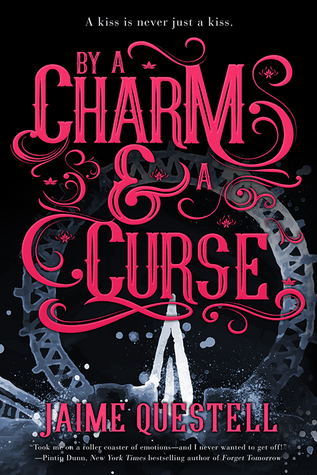 Title: By a Charm & a Curse
Author:  Jaime Questell
Published by: Entangled: Teen
Publication date: February 6, 2018
Genres: Young Adult, Fantasy, Romance
Synopsis:
Le Grand's Carnival Fantastic isn't like other traveling circuses. It's bound by a charm, held together by a centuries-old curse, that protects its members from ever growing older or getting hurt. Emmaline King is drawn to the circus like a moth to a flame…and unwittingly recruited into its folds by a mysterious teen boy whose kiss is as cold as ice.
Forced to travel through Texas as the new Girl in the Box, Emmaline is completely trapped. Breaking the curse seems like her only chance at freedom, but with no curse, there's no charm, either—dooming everyone who calls the Carnival Fantastic home. Including the boy she's afraid she's falling for. 
Everything—including his life—could end with just one kiss.
Goodreads / Amazon / Barnes & Noble  /  Book Depository
---
By A Charm & A Curse is dark carnival novel that intertwines a story of sacrifice, love, and selflessness. The characters and the plot embrace you from the very beginning, sending you on a rollercoaster of thrills, chills, and a close up of the secretive and melancholic world of carnivals. I love carnival/circus books, and this book added a bit of fantasy and grittiness with twisted curses into the mix of Ferris wheels and fortune tellers. 
Told in multiple points-of-view, I liked that we got a unique look at both the historical pieces of a traveling carnival and the electrifying thrills of today's carnivals. The main characters, Emma and Ben, both provide a very vibrant and straightforward account of their surroundings.  The story had some unexpected surprises, but the pacing had me longing for solutions for the hopeless and helpless characters that were cursed. By A Charm & A Curse is definitely a page-turner.
By A Charm & A Curse is a dollop of charms, suspense, romance, and darkness thrown into pages of decadent carnival magic. I enjoyed reading the connection that builds between Emma and Ben; however, I would have also loved more focus on the secondary characters, who all had some insane, mind-boggling talents (maybe we will get a companion novel or some novellas in the future!). Overall, this book becomes a complicated bundle of ancestral curses, but provides a beautiful outlook of a small community coming together to change fate.

About Jaime Questell:
JAIME QUESTELL grew up in Houston, Texas, where she escaped the heat and humidity by diving into stacks of Baby Sitter's Club and Sweet Valley High books. She has been a book seller (fair warning: book lovers who become book sellers will give half their paychecks right back to their employers), a professional knitter, a semi-professional baker, and now works as a graphic designer in addition to writing.
Author Links:
Author Website / Instagram / Twitter / Goodreads / Newsletter
NOTE:  Thank you to Netgalley and Entangled Teen for providing me an e-arc to read and review for free in exchange of an honest review.