From critically acclaimed author Katie McGarry, comes SAY YOU'LL REMEMBER ME—a story of two people from different worlds pushing themselves, and each other, to get what they deserve!
SAY YOU'LL REMEMBER ME releases on January 30, 2018. Pre-order your copy today!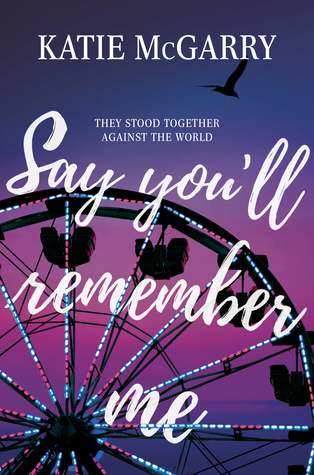 Title: Say You'll Remember Me
Author: Katie McGarry
Published by: Harlequin Teen
Publication date: January 30, 2018
Genres: Young Adult, Contemporary, Romance
SAY YOU'LL REMEMBER ME Synopsis:
"Doesn't matter who did it. Not anymore. I did the time. It's over."

When Drix was convicted of a crime–one he didn't commit–he thought his life was over. But opportunity came with the Second Chance Program, the governor's newest pet project to get delinquents off the streets, rehabilitated and back into society. Drix knows this is his chance to get his life back on track, even if it means being paraded in front of reporters for a while.
Elle knows she lives a life of privilege. As the governor's daughter, she can open doors with her name alone. But the expectations and pressure to be someone she isn't may be too much to handle. She wants to follow her own path, whatever that means.
When Drix and Elle meet, their connection is immediate, but so are their problems. Drix is not the type of boy Elle's parents have in mind for her, and Elle is not the kind of girl who can understand Drix's messy life.
But sometimes love can breach all barriers.
Fighting against a society that can't imagine them together, Drix and Elle must push themselves–Drix to confront the truth of the robbery, and Elle to assert her independence–and each other to finally get what they deserve.
Preorder SAY YOU'LL REMEMBER ME here!
Amazon | Barnes & Noble | iBooks | Google Play | B-A-M | Kobo
I adore Katie McGarry's books, so I was ecstatic when I got an e-arc of Say You'll Remember Me. Once again, McGarry sets up her storytelling in my favorite setting, the Commonwealth of Kentucky, and unleashes a romantic contemporary where two characters from different sides of the track have their lives intertwine. 
I found Say You'll Remember Me to be one of the more serious and darker books of McGarry's. Told in two different points of view, Elle's and Drix's, we are introduced to the lives of a girl who is the daughter of a well-known politician and a boy with a struggling background with the law. Both characters are vibrantly written and their internal and external dialogue will suck you in. I love that these two main characters have a instant connection with each other and their friendship grows before a relationship blooms. 
One of my favorite things about this book is that McGarry's portrays the importance of family (traditional and non-traditional). While Drix's parents are out of the picture, he relies highly on his older brother and younger sister. Although they don't live in the best part of town, their love for each other shines brighter than money. Elle also comes from a family of love, but her parents are happily married, and their expectations are high for Elle's future and her living a "pristine" life. Through these two main characters and their familial backgrounds, Say You'll Remember Me stresses the importance of love, trust, and communication. 
If you are fan of drama and romance, Say You'll Remember Me is for you. I did find this story to be a bit too dark and angsty for me, mainly with the realistic portrayal of gun violence. A particular part of the ending broke my heart and was a major trigger for me, mainly because I am a dog owner/lover. But overall this story realistically portrays the eyeopening boundaries of social backgrounds and integrates a new dialogue into social status, poverty,  traditional and non-traditional families, and teenage violence and incarceration.
EXCERPT
~Ellison~
Sean points, and a woman in the back asks, "You never met Mr. Pierce before?"
I shake my head, and Sean gestures to the microphone. "No. I was playing a midway game earlier, and he ended up playing beside me, but then we went our separate ways. I left the game, and these guys started to harass me, and hen Hendrix asked if I needed help. I agreed, and he suggested we talk. He said that if the guys thought we were friends they would eventually lose interest, and they did. Hendrix played a game, and we talked until Andrew showed."
"Andrew?" someone asks.
"Andrew Morton." That causes enough of a stir that nervousness leaks into my bloodstream and makes my hands cold and clammy. Why is it that I feel that I said something terribly wrong?
"Are you and Andrew Morton friends?" someone else asks, and the question hits me in a sickening way. I name-dropped the grandson of the most powerful US Senator…the position my father is campaigning for. Sean is going to roast me alive.
"Yes. We've been friends for as long as I remember." Friends, enemies, it's all semantics at this point.
"Did you and Andrew Morton plan to attend the festival together?" Another reporter.
"Yes."
"Were you on a date?" a woman asks.
My entire body recoils. "What?"
"Are you and Andrew Morton romantically involved?"
I become one of those bunnies who go still at the slightest sound. "I thought we were talking about Hendrix."
"Did Mr. Pierce confront the men?"
Finally back on track. "No, he was adamant that there should be no violence."
More questions and I put my hand in the air as I feel like I'm the one on trial. "Isn't that the point?  Hendrix went through my dad's program, and one of the first chances he had to make a good decision, he made one. We're strangers, and he helped me without violence. That, to me, is success." A few people nod their head, and because I don't want to be done yet… "Mr. O'Bryan—grown men shouldn't be following seventeen-year-old girls. I'm curious why you didn't step in when I was being harassed. If you saw Hendrix and me together, then you know what happened, and it's horrifying you didn't help. Hendrix made the right choice. You did not."
A rumble of conversation, Sean places a hand on my arm and gently, but firmly pushes me to the side. The raging fire in his eyes says he's mentally measuring out the room in the basement he's going to let me rot in for the next ten years.
My father approaches the microphone with an ease I envy. "Any more questions for Ellison can be sent to my press secretary. As you can tell, it's been a trying day for my daughter, but we are most grateful for Mr. Pierce's actions. We promised a program that was going to help our state's youth turn their lives around, and, thanks to Mr. Pierce's admirable actions, we are proud of our first program's success."
He offers Drix his hand again, and Drix accepts.
Lots of pictures and applause, and Dad leans in and whispers something to him. I can't tell what it is, but I do see the shadow that crosses over Drix's face, his throat move as he swallow and then the slight nod of his head.
I don't know what happened, but I don't like it. The urge is to rush Drix, but Sean has a firm hold on my elbow, keeping me in place, silently berating me for causing problems.
Drix stands behind the podium and drops a bomb so huge the ground shakes beneath my feet. "Because Ellison had enough courage to explain what happened today, I'm going to tell you what I was convicted of…"
Pre-order SAY YOU'LL REMEMBER ME, register and you will receive AND THEY ALL LIVED HAPPILY EVER AFTER, a novella that features your favorite Pushing the Limits and Thunder Road characters!
From the Pushing the Limits series, Noah, Beth, Isaiah, West and Logan are all grown up. Catch up with your favorite characters as one of them finally says, I do.
Pigpen, Eli and Addison from the Thunder Road series: Three separate personalities who still needed to find love…and still had someone important to meet.
This is a limited time offer! So hurry! Registration ends on February 3, 2018! You must register your pre-order to receive AND THEY ALL LIVED HAPPILY EVER AFTER.

Katie McGarry's SAY YOU'LL REMEMBER ME – Tour Schedule:
January 22nd
The Sisterhood of the Traveling Book Boyfriends
January 23rd
January 24th
January 25th
January 26th
MrsLeif's Two Fangs About It Book Reviews
January 27th
An Asian Chick & Her Cat Walk into a Book Blog
January 28th
January 29th
Rants and Raves of a Bibliophile
January 30th
January 31st
Fictional Rendezvous Book Blog
February 1st
Katy and Zetti's Book Ramblings
February 2nd
Angie and Jessica's Dreamy Reads
February 3rd
About Katie McGarry:
Katie McGarry was a teenager during the age of grunge and boy bands and remembers those years as the best and worst of her life. She is a lover of music, happy endings, reality television, and is a secret University of Kentucky basketball fan.
Katie is the author of full length YA novels, PUSHING THE LIMITS, DARE YOU TO, CRASH INTO YOU, TAKE ME ON, BREAKING THE RULES, and NOWHERE BUT HERE and the e-novellas, CROSSING THE LINE and RED AT NIGHT. Her debut YA novel, PUSHING THE LIMITS was a 2012 Goodreads Choice Finalist for YA Fiction, a RT Magazine's 2012 Reviewer's Choice Awards Nominee for Young Adult Contemporary Novel, a double Rita Finalist, and a 2013 YALSA Top Ten Teen Pick. DARE YOU TO was also a Goodreads Choice Finalist for YA Fiction and won RT Magazine's Reviewer's Choice Best Book Award for Young Adult Contemporary fiction in 2013.