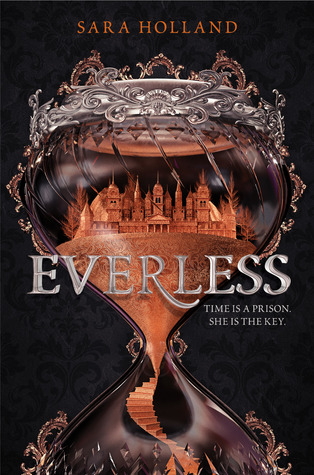 Title: Everless
Author: Sara Holland
Published by: HarperTeen
Publication date: January 2, 2018
Genres: Young Adult, Fantasy 
Synopsis:
In the land of Sempera, time is extracted from blood and used as payment. Jules Ember and her father were once servants at Everless, the wealthy Gerling family's estate, but were cast out after of a fateful accident a decade ago. Now, Jules's father is reaching his last hour, and she will do anything to save him. Desperate to earn time, she arrives at the palace as it prepares for a royal wedding, ready to begin her search into childhood secrets that she once believed to be no more than myths. As she uncovers lost truths, Jules spirals deeper into a past she hardly recognizes, and faces an ancient and dangerous foe who threatens her future and the future of time itself.
Goodreads / Amazon / Barnes & Noble  /  Book Depository
---
Everless is a fantasy read that focuses on a unique concept of time being used as currency. I love that not only is family important in the book, but the main character also values friendships, old and new. This book contains a lot of layers, and through each chapter something new, and oftentimes surprising, is unveiled. 
Jules, the protagonist, is very kindhearted, selfless, and giving. I had a hard time connecting with Jules, because sometimes I found her to be a bit childish and very naive. She focuses a lot on her past (which is foggy at times); I kept hoping she would open her eyes and mind up to her surroundings, but she is very straight and narrow. Luckily her eyes open more toward the end of the book and she becomes more open-minded and acknowledges that not everything is black and white.  
Although there are several great twists in Everless, I found the storyline and the main character quite predictable. But overall I loved the fantasy elements that were sprinkled in with some alchemist concepts. Of course, I loved that romance was not the highlight of the book, but it was still there and I can definitely see my favorite trope of hate-to-love relationship blooming. The last 50 pages are action-packed with unraveling twists and secrets. I cannot wait to see what happens in the next book and I look forward to learning more about Liam, Jules "enemy," and his role in Jules' future. 
NOTE:  I was not provided a copy of this book by the author or the publisher in an exchange for a review. I won the advanced reader's copy from a Twitter giveaway sponsored by Glasstown Entertainment, and I reviewed the book at my own discretion.  All statements and opinions in this review are mine. A huge thank you to Glasstown Entertainment for the ARC.