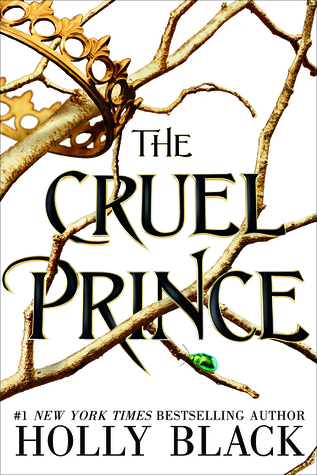 Title: The Cruel Prince
Author: Holly Black
Published by: Little, Brown Books for Young Readers
Publication date: January 2, 2018
Genres: Young Adult, Fantasy 
Synopsis:
Of course I want to be like them. They're beautiful as blades forged in some divine fire. They will live forever.
And Cardan is even more beautiful than the rest. I hate him more than all the others. I hate him so much that sometimes when I look at him, I can hardly breathe.
Jude was seven years old when her parents were murdered and she and her two sisters were stolen away to live in the treacherous High Court of Faerie. Ten years later, Jude wants nothing more than to belong there, despite her mortality. But many of the fey despise humans. Especially Prince Cardan, the youngest and wickedest son of the High King.
To win a place at the Court, she must defy him–and face the consequences.
In doing so, she becomes embroiled in palace intrigues and deceptions, discovering her own capacity for bloodshed. But as civil war threatens to drown the Courts of Faerie in violence, Jude will need to risk her life in a dangerous alliance to save her sisters, and Faerie itself.
Goodreads / Amazon / Barnes & Noble  /  Book Depository
---
You guys this book broke me in the best ways possible. At first, The Cruel Prince shocked me with its grim and gruesome first chapter. But then I was slowly dangled into the cruel politics of the fairy world. At first, I liked the story, but I felt like something was missing. My stubborn self craved so much more than family history and fae politics. Plus I was not a big fan of the sister dynamics that were wearing down on my last nerve.
BUT…BAM!
Once I got to the 150ish page mark, I could not put this book down. I was engrossed with the storyline's darkness, the espionage, the secrets, the twists, and OHMYGOD that ending! 
The Cruel Prince is a gorgeous and gritty read. It's simply a stunner from the beautiful cover to the unique characters and all the unexpected plot twists. This book has everything from mouth-dropping scenes,  several punch in the gut romances, and the most unforeseen betrayal that had me grasping for more pages.
I am floored that this book did a 180 on me and I cannot wait for book two. If there is one book that I highly recommend that you TREAT YO SHELF to at the beginning of 2018, please for the love of all fairies, pick up The Cruel Prince. You will not regret it. 
NOTE:  I was not provided a copy of this book by the author or the publisher in an exchange for a review. I received an advance reader's copy through a blogger book trade and reviewed it at my own discretion.  All statements and opinions in this review are mine.