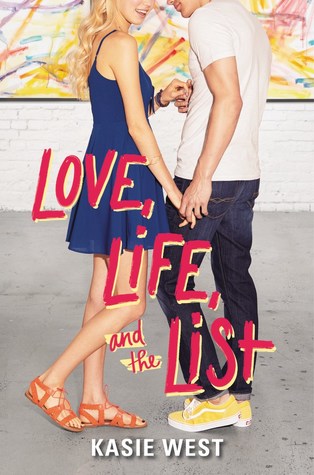 Title: Love, Life, and the List
Author: Kasie West 
Publication Date: December 26, 2017
Publisher: HarperTeen
Genres: Young Adult, Romance, Contemporary
Synopsis:
Everyone knows Abby Turner is in love with her best friend, Cooper Wells. Including Cooper Wells. But despite what people tell her, it doesn't affect their friendship. And she's practically over it, anyway. What she really can't get over is when her boss at the local museum tells her that her paintings lack heart. 
Art is Abby's passion and she hopes her future as well. She is determined to change his mind and earn her way into the upcoming exhibit at the gallery. So along with her family's help, she compiles "The Heart List," a series of soulstretching experiences that are sure to make her a deeper person and better artist in six weeks or less. When Cooper decides to complete the list along with her, she realizes this list is expanding her heart in more ways than one. Maybe she needs to start another project.
Love, Life, and the List is about a girl who, in an effort to bring more emotional depth to her art, compiles a list of soul-stretching experiences to complete with her best friend—a boy she also happens to be in love with. 
This is the first in a set of three standalone books with crossover characters.
LINKS:   Goodreads | Amazon | Barnes & Noble |  The Book Depository
---
You guys, Kasie West has done it again. I think Love, Life, and the List might be one of my top three favorites out of all her bajillion books. This book is such a quick, funny, and sweet read. I laughed, swooned, and smiled so much while reading it, that now my cheeks hurt, hahaha. 
I adored the main character Abby. She does not come off angsty. Instead she is sarcastic as hell (AHHH…WHICH I LOVED), she's persistent regarding her future and perfecting her craft, and most of all, I liked that she creates lists to help her reach her goals. She is basically Rory Gilmore without all the drama and making stupid choices. 
One of my favorite aspects of this novel that I would like to highlight is Abby's family. Her mom has a hard time being in public or around people and her grandpa is the sarcasm king. And even though her dad is deployed, Abby's family is really close knit and they are always communicating. YES, I love that they are always talking and never leaving someone out of the loop, even when it comes to Abby's love life or lack thereof. 
Overall, Love, Life, and the List is one of those cute and swoony books that I can see myself rereading when I am in a reading slump. Banter and witty sarcasm always make me smile, and the repartee that occurs in this book is worth the deepest belly laughs. If you love a main character filled with passion and a good heart, and a cute boy best friend that never fails to make you smile, definitely treat yo shelf and self to this book.