Waiting on Wednesday is a weekly meme that highlights pre-publication/upcoming releases that readers cannot wait to get their hands on. It is hosted by Jill at Breaking the Spine.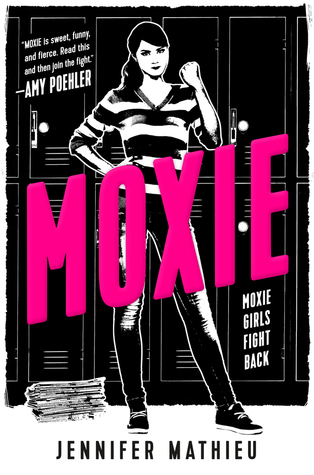 Title: Moxie
Author: Jennifer Mathieu
Publication date: September 19, 2017
Publisher:  Roaring Brook Press
Genres: Young Adult, Contemporary, Fiction, Feminism
Synopsis
An unlikely teenager starts a feminist revolution at a small-town Texan high school in the new novel from Jennifer Matheiu, author of The Truth About Alice.

MOXIE GIRLS FIGHT BACK!
Vivian Carter is fed up. Fed up with a school administration at her small-town Texas high school that thinks the football team can do no wrong. Fed up with sexist dress codes, hallway harassment, and gross comments from guys during class. But most of all, Viv Carter is fed up with always following the rules.
Viv's mom was a tough-as-nails, punk rock Riot Grrrl in the '90s, and now Viv takes a page from her mother's past and creates a feminist zine that she distributes anonymously to her classmates. She's just blowing off steam, but other girls respond. As Viv forges friendships with other young women across the divides of cliques and popularity rankings, she realizes that what she has started is nothing short of a girl revolution.
Moxie is a book about high school life that will make you wanna riot!
Goodreads | Amazon |Barnes & Noble

AHHH! I am so ready for this book. I have a gut feeling that this book is going to be the empowering book I wish I had read in high school, and I am so glad it has finally been written. We need more feminist books out there in society, especially ones that allow any person to experience the encouragement, the revolution of change, and the strength that comes from personal choice and feminism.