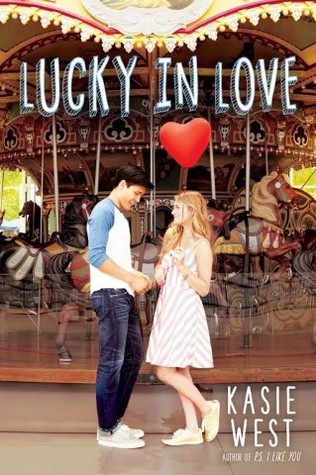 Title: Lucky in Love
Author: Kasie West
Publication date: July 25, 2017
Publisher:  Scholastic
Genres: Young Adult, Contemporary, Romance
ABOUT THE BOOK:
In this new contemporary from YA star Kasie West, a girl who wins the lottery learns that money can cause more problems than it solves, especially when love comes into the picture.
Maddie doesn't believe in luck. She's all about hard work and planning ahead. But one night, on a whim, she buys a lottery ticket. And then, to her astonishment —
She wins!
In a flash, Maddie's life is unrecognizable. No more stressing about college scholarships. Suddenly, she's talking about renting a yacht. And being in the spotlight at school is fun… until rumors start flying, and random people ask her for loans. Now, Maddie isn't sure who she can trust.
Except for Seth Nguyen, her funny, charming coworker at the local zoo. Seth doesn't seem aware of Maddie's big news. And, for some reason, she doesn't want to tell him. But what will happen if he learns her secret?
With tons of humor and heart, Kasie West delivers a million-dollar tale of winning, losing, and falling in love.
LINKS: Goodreads | Amazon | B&N |  The Book Depository
---
You guys, I'm so upset that this book did not work for me. Kasie West's books are always a hit or a miss for me, and Lucky In Love turned out to be my least favorite book of hers. I hate admitting that, but the story did not work for me. I could not connect with Maddie, the main character, at all. Her voice was too "internal" and self-involved for me and I got so irritated with all her irresponsible choices when it came to her lottery winnings. In the end, I could not deal with how naive she was. 
I did, however, really liked the friendship that develops between Maddie and her co-worker Seth. I loved how nerdy, awkward, and cute they act in each other's presence. Their adorable interactions always lifted my spirits during my reading of Lucky In Love, which made the book tolerable for me.
Another rave for me is the ADORABLE cover. I love how vibrant, cute, and swoony it is. Even if the story did not win me over, this cover definitely did. I wish I could have loved this book, but in the end, Lucky In Love was not a winner for me. But I really do hope it works for other contemporary readers–maybe I just wasn't in the right mood to read it at the time.
NOTE:  I was not provided a copy of this book by the author or the publisher in an exchange for a review. I received this physical ARC copy through a blogger exchange. I reviewed the book at my own discretion.  All statements and opinions in this review are mine.