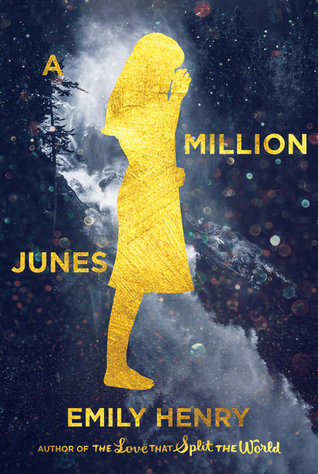 Title: A Million Junes
Author: Emily Henry
Publication date: May 16, 2017
Publisher:  Razorbill
Genres: Young Adult, Fantasy 
Format: e-ARC from Penguin's First to Read site
ABOUT THE BOOK:
Romeo and Juliet meets One Hundred Years of Solitude in Emily Henry's brilliant follow-up to The Love That Split the World, about the daughter and son of two long-feuding families who fall in love while trying to uncover the truth about the strange magic and harrowing curse that has plagued their bloodlines for generations.
In their hometown of Five Fingers, Michigan, the O'Donnells and the Angerts have mythic legacies. But for all the tall tales they weave, both founding families are tight-lipped about what caused the century-old rift between them, except to say it began with a cherry tree.
Eighteen-year-old Jack "June" O'Donnell doesn't need a better reason than that. She's an O'Donnell to her core, just like her late father was, and O'Donnells stay away from Angerts. Period.
But when Saul Angert, the son of June's father's mortal enemy, returns to town after three mysterious years away, June can't seem to avoid him. Soon the unthinkable happens: She finds she doesn't exactly hate the gruff, sarcastic boy she was born to loathe.
Saul's arrival sparks a chain reaction, and as the magic, ghosts, and coywolves of Five Fingers conspire to reveal the truth about the dark moment that started the feud, June must question everything she knows about her family and the father she adored. And she must decide whether it's finally time for her—and all of the O'Donnells before her—to let go.
LINKS: Goodreads | Amazon | Barnes & Noble |  The Book Depository
---
Last year, Emily Henry's debut novel, The Love That Split the World, won me over. It was beautifully written, the story was intense and intriguing, and honestly that book still sits well in my heart. And you guys, Henry's new novel, A Million Junes, is just as impeccable. The novel is a meshing of generational curses, smart and quick-witted dialogue, and eccentric magic.
In A Million Junes, Emily Henry's words are lyrical. She writes at such an elegant and wistful pace that I often forgot I was reading a book. Not only do her words melodically carry you through a world that merges reality and fantasy, but her writing transcends you into alternate worlds where memories exist by the seed of a dandelion. Henry's storytelling took me on a collision course of in-between worlds that carry the reminisced emotions of comfort, laughter, heartache, and sorrow. A Million Junes is mesmerizing and thought-provoking and truly a gem to read. 
In reference to the main character, Jack "June" O'Donnell IV often wears her heart on her sleeve. Her sarcasm and wit have no filter, which carries well-needed humor in a story that is filled with grief and haunting despair. June's attitude and opinions change as the story progresses, and I like that her growth is driven by both emotion and reason. And when this sassy, passionate teenager meets Saul, an enemy to her family, I love that June's world is set into a whirlwind of challenges and transformation. 
The friendship that develops between June and Saul is beautifully weaved through white lies, snarky jokes, and good rapport. Their chemistry and fast-paced repartee are both heartwarming and hilarious. After their first encounter with one another, I wanted every page dedicated to their conversations. EVERY! SINGLE! PAGE! 
After reading A Million Junes, I hugged the book to my heart. I am 100% sure that this book will be one of those novels that I reread, because I will forever want that enchanting feeling back in my soul. I truly think A Million Junes will be my cure for future reading slumps. I love that this book exists and I love what it stands for. A Million Junes carefully situates two characters in a familial feud that darkens the pages with curses and haunting memories, but, in the end, it manifests that sorrow into experiences of forgiveness and moving forward.
NOTE: Thank you to Penguin's First to Read program for providing me an e-galley/e-ARC of this book in exchange for an honest review. All statements and opinions are my own.