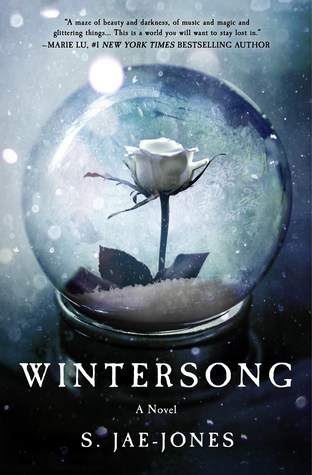 Title: Wintersong
Author: S. Jae-Jones
Publication date: February 7, 2017
Publisher: Thomas Dunne
Genres: Young Adult, Fantasy, Romance, Retelling
Format: e-ARC from Netgalley
About the book:
Beware the goblin men and the wares they sell.
All her life, nineteen-year-old Liesl has heard tales of the beautiful, mysterious Goblin King. He is the Lord of Mischief, the Ruler Underground, and the muse around which her music is composed. Yet, as Liesl helps shoulder the burden of running her family's inn, her dreams of composition and childish fancies about the Goblin King must be set aside in favor of more practical concerns.
But when her sister Käthe is taken by the goblins, Liesl journeys to their realm to rescue her sister and return her to the world above. The Goblin King agrees to let Käthe go—for a price. The life of a maiden must be given to the land, in accordance with the old laws. A life for a life, he says. Without sacrifice, nothing good can grow. Without death, there can be no rebirth. In exchange for her sister's freedom, Liesl offers her hand in marriage to the Goblin King. He accepts.
Down in the Underground, Liesl discovers that the Goblin King still inspires her—musically, physically, emotionally. Yet even as her talent blossoms, Liesl's life is slowly fading away, the price she paid for becoming the Goblin King's bride. As the two of them grow closer, they must learn just what it is they are each willing to sacrifice: her life, her music, or the end of the world.
LINKS: Goodreads | Amazon | B&N |  The Book Depository
---
Rants and Raves of Wintersong
Once again, another 2017 debut novel has bewitched me, and this time I have been enchanted by Wintersong by S. Jae-Jones. Set up as a retelling of Labyrinth, I interpreted Wintersong more as a mashup of Christina Rossetti's cautious poem "Goblin Market," the fierceness of "Beauty and the Beast," with sparks of Jane Eyre's "plain-Jane-with-an-independent-will" shadowing the burning flames of Liesl and the Goblin King's story. I don't say this lightly, but after reading this novel, I just wanted to shout, "F!!!!CK, this book is so good!" 
First, I loved the storyline and pacing of Wintersong. After devouring 150 pages in one sitting, and noticing that the book was 448 pages long, I slowed my reading speed in order to savor the story a little longer. S. Jae-Jones writing is so beautiful and engaging. I really enjoyed how her writing illuminated such strong passion and raw affection on the page. I personally found her storytelling and characters leaving more than a story buzzing in my ear. In my case, Liesl and the Goblin King haunted my dreams, whispered in my thoughts, and begged that I finish their story whenever I put the book down.
Liesl and the Goblin King's relationship is not set up as any typical young adult trope. Instead of instant-love, these two characters carried a flame for each other since their youth, where they laughed, danced, and played music in the Goblin Grove. And as they grow older, their infatuation for one another remained an ember slowly bursting into flames of desire. Their relationship is filled with anger, misunderstandings, tenderness, excitement, and such intense devotion. The chemistry between these two characters is breathtaking–it cracks, it sizzles, and it purrs. They are two independent beings, eager to please themselves and each other. 
In the end, I found Wintersong to be a vibrant story about caution, close family bonds, sacrifice, fiery passion, trust, and love. Although the ending is left open-ended, I would love to read a sequel. I'm being selfish here, because I want more Liesl and the Goblin King! (Sorry not sorry.) I cannot recommend this novel enough. If you enjoy the intense and complicated relationships portrayed in Victorian novels, a dash of German language, crossing the blurred lines between fantasy and reality, and the slow burn of two characters connecting in a novel, Wintersong is the perfect book before you. 
NOTE: Thank you to Netgalley and Thomas Dunne for providing me an e-galley/e-ARC of this book in exchange for an honest review. All statements and opinions are my own.