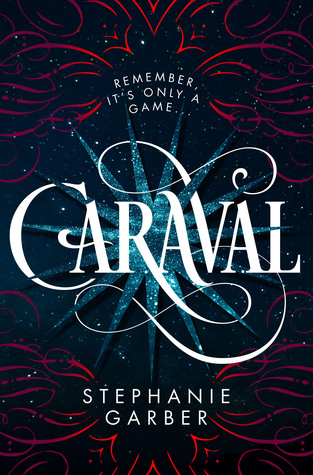 Title: Caraval
Author: Stephanie Garber
Publication date: January 31, 2017
Publisher: Flatiron Books
Genres: Young Adult, Fantasy, Romance
Format: ARC, gifted from friend
About the book:
Welcome to Caraval, where nothing is quite what it seems.
Scarlett has never left the tiny isle of Trisda, pining from afar for the wonder of Caraval, a once-a-year week-long performance where the audience participates in the show.
Caraval is Magic. Mystery. Adventure. And for Scarlett and her beloved sister Tella it represents freedom and an escape from their ruthless, abusive father.
When the sisters' long-awaited invitations to Caraval finally arrive, it seems their dreams have come true. But no sooner have they arrived than Tella vanishes, kidnapped by the show's mastermind organiser, Legend.
Scarlett has been told that everything that happens during Caraval is only an elaborate performance. But nonetheless she quickly becomes enmeshed in a dangerous game of love, magic and heartbreak. And real or not, she must find Tella before the game is over, and her sister disappears forever.
A mesmerising, magical and stunningly imaginative debut novel for anyone who loved The Night Circus and Daughter of Smoke and Bone.
LINKS: Goodreads | Amazon | B&N |  The Book Depository
---
Rants and Raves of Caraval
Hello, my name is Cassie, and I am a Caraval addict…I mean fanatic. I have read Caraval by Stephanie Garber twice, and I'm utterly, unbelievably in love with the characters, the story, and the world–anything and everything Caraval. I honestly feel like I was bewitched by this book; Garber uniquely captivates her reader with gritty emotions, enchanting sentences, and the most vivid images of luster and love.
Caraval is a book that will charm you from the first page. Along with a collection of letters to and from a game-master named Legend, Scarlett and Tella's story starts off as weary and cautious, but blooms into a world where darkness hides mischief, and magic awaits every corner. Throughout my reading experience, my mind was whirled with thoughts of endless enchantment and ominous whispers. There were so many unexpected twists and turns that I honestly did not see coming. If you are a fan of surprises and mystery, you will love this book.
From the well-paced storyline to the dynamic characters to the setting that I'm dying to visit, Caraval is a strange, bewitching, and fantastical read. Caraval is about magic, but more importantly, this book emanates and breathes magic while you're reading it. Garber's storytelling transfixed me in a carnival game filled with wishes and desires, and I personally dream to be a player in Legend's carnival game depicted in this thrilling, haunting, and overall mesmerizing world.
I loved Caraval most of all because it's a story with limitless possibilities. It is a story about sisters. A tale of escapism. A nose-dive adventure into forming new friendships, finding trust, and understanding love. And, it is a story about conquering dares, taking chances, and fully living. Overall, I cannot rave enough about how much I enjoyed Caraval. This book may end up being one of my favorite reads of 2017, and I very much look forward to revisiting this world in the sequel. 
NOTE:  I received this ARC from a friend. I was not provided a copy of this book by the author or the publisher in an exchange for a review; I reviewed it at my own discretion.  All statements and opinions in this review are mine.