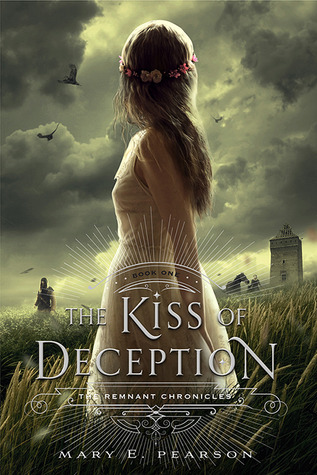 Title: The Kiss of Deception
By: Mary E. Pearson
Release Date: July 8, 2014
Publisher: Henry Holt and Co. (BYR)
Genres: Fiction, Young Adult, Romance, Fantasy
Pages: 489 (Hardcover)
Format: Hardcover
Source: Purchased
About The Kiss of Deception
A princess must find her place in a reborn world.
She flees on her wedding day.
She steals ancient documents from the Chancellor's secret collection.
She is pursued by bounty hunters sent by her own father.
She is Princess Lia, seventeen, First Daughter of the House of Morrighan.
The Kingdom of Morrighan is steeped in tradition and the stories of a bygone world, but some traditions Lia can't abide. Like having to marry someone she's never met to secure a political alliance.
Fed up and ready for a new life, Lia flees to a distant village on the morning of her wedding. She settles in among the common folk, intrigued when two mysterious and handsome strangers arrive—and unaware that one is the jilted prince and the other an assassin sent to kill her. Deceptions swirl and Lia finds herself on the brink of unlocking perilous secrets—secrets that may unravel her world—even as she feels herself falling in love.
LINKS: Goodreads | Amazon | B&N |  The Book Depository
---
My Rants and Raves of The Kiss of Deception
I am on the fence on how to rate The Kiss of Deception. I keep going back and forth between a rating of 2.5 stars and 3.5 stars, but I think I'm going to settle for a 3-star rating right now. Overall, I enjoyed reading The Kiss of Deception, but there were parts of the book that rubbed me the wrong way. 
RANTS:  The Kiss of Deception contains many young adult literature tropes that I'm not too fond of: Instant-love, a love triangle, scattered multiple points of view, and pages of useless or dragged out scenes. Additionally, I had a love/hate relationship with the main character. 
I really had a hard time connecting and sympathizing with the MC heroine, Lia. Yes, she has very little say in her love life and future, but even when she is separated from her royal obligations, Lia was off-putting to me. It's odd that she fails to see that her actions have consequences, and oftentimes, these consequences are shocking or oblivious to her. Lia was a hot and cold heroine for me to root for, but after reading the last few chapters, I am on board to see her progress into a more confident and courageous character. She has the yearning and potential to be a fierce heroine, and I look forward to hopefully seeing her develop in the series.
RAVES: I am a sucker for mysteries, royal characters, deception, deciphering dead languages, and discovering prophecies. So ideally this book was screaming my name. And in the end, these were the topics that kept me interested in the plot and finishing the book. This book ends in a twist and cliffhanger, and I look forward to uncovering more about Lia's fate, the prophecies that surround her, and the mysteries that will unfold. Because The Kiss of Deception is  part of a series, yes, I have decided to adventure into the next book. 
NOTE:  I bought this book with my own funds. I was not provided a copy of this book by the author or the publisher in an exchange for a review; I reviewed it at my own discretion.  All statements and opinions in this review are mine.