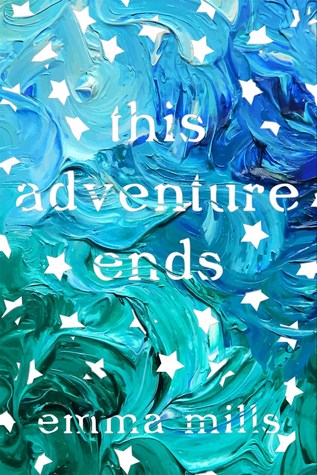 Title: This Adventure Ends
By: Emma Mills
Release Date: October 4, 2016
Publisher: Henry Holt and Co./Macmillan 
Genres: Young Adult, Fiction, Contemporary
Format: e-ARC
Source: Netgalley
About This Adventure Ends:
Sloane isn't expecting to fall in with a group of friends when she moves from New York to Florida—especially not a group of friends so intense, so in love, so all-consuming. Yet that's exactly what happens.
Sloane becomes closest to Vera, a social-media star who lights up any room, and Gabe, Vera's twin brother and the most serious person Sloane's ever met. When a beloved painting by the twins' late mother goes missing, Sloane takes on the responsibility of tracking it down, a journey that takes her across state lines—and ever deeper into the twins' lives.
Filled with intense and important friendships, a wonderful warts-and-all family, shiveringly good romantic developments, and sharp, witty dialogue, this story is about finding the people you never knew you needed.
LINKS: Goodreads | Amazon | B&N 
---
MY RANTS AND RAVES OF
THIS ADVENTURE END

S
You guys, this book is perfection. This Adventure Ends is about creating new friendships, mourning, adventure, and discovery. It is a book that carries the reader through life's difficulties, and explores new paths of self-exploration and new perceptions. If I could spell my love for this book with peas, I don't think there would be enough peas to go around.
Sloane, the main character, is so snarky and sarcastic, and I loved every time her voice and wit shined on the page. More importantly, I enjoyed how Sloane's quirky personality balances her new friend's (Gabe's) cautious and quiet persona. Their friendship is filled with respect, love, comradeship, and excellent, off-the-wall humor. 
This Adventure Ends is full of sweet, compassionate, hilarious, and entertaining scenes. I loved how raw, off-the-page, and realistic each of the characters are portrayed. Every word, sentence, paragraph, page, character, and planking baby is worth savoring throughout this novel. I'm going to say it right now, This Adventure Ends is definitely one of my Top Favorite Books of 2016, so far.
Some of my favorite Quotes (from an e-ARC):
"I creep because I care," he says, and then reaches for the cake.
"You know, everything is, like, fifteen times more dramatic when you say it."
"You smell like a thousand babies planking for a thousand years."
NOTE: Thank you to Netgalley and Henry Holt/Macmillan for providing me an e-galley/e-ARC of this book in exchange for an honest review. All statements and opinions are my own.