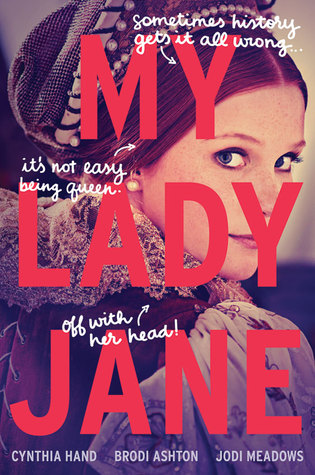 Title: My Lady Jane
By: Cynthia Hand, Brodi Ashton, and Jodi Meadows
Release Date: June 7, 2016
Publisher: HarperTeen
Genres: Young Adult, Fiction, Fantasy, Romance, Historical
Pages: 491
Format: Hardcover
Source: June's Uppercase Box
About My Lady Jane: 
The comical, fantastical, romantical, (not) entirely true story of Lady Jane Grey. In My Lady Jane, coauthors Cynthia Hand, Brodi Ashton, and Jodi Meadows have created a one-of-a-kind fantasy in the tradition of The Princess Bride, featuring a reluctant king, an even more reluctant queen, a noble steed, and only a passing resemblance to actual history—because sometimes history needs a little help.
At sixteen, Lady Jane Grey is about to be married off to a stranger and caught up in a conspiracy to rob her cousin, King Edward, of his throne. But those trifling problems aren't for Jane to worry about. Jane gets to be Queen of England.
LINKS: Goodreads | Amazon | B&N |  The Book Depository
---
My Rants and Raves of My Lady Jane
This review is going to be short and to the point.
I wanted to love My Lady Jane, but in the end, I just thought it was okay. Yes, it was creative and had some funny "snickering" parts, but overall the story seemed too long, too dramatic, too slow-paced, and not as funny as I thought it was going to be.
I had high expectations for My Lady Jane, because everyone was saying how hilarious it is. And friends, I was ready to read a funny book! UGH…why do overly hyped books set my standards up too high? Why?! Sadly, this historical fiction fan and lover of comedies failed to fall in love with this book. Because I thought the story dragged on in many places, I did not become invested in the storyline or with any of the characters. I honestly do not even have a favorite character, which makes me sad to even admit.
The concept of re-imagining Jane Grey's fate is unique, and it was interesting to read the topsy-turvy conflict about humans morphing into animals, instead of focusing on the religious conflict that overpowered the monarchy at that time. But overall, even though I did not love this book, I still think My Lady Jane would be perfect for people who enjoy long drawn out romances about quirky characters. 
Note:   I was not provided a copy of this book by the author or the publisher in exchange for a review. I received this book in my June 2016 Uppercase subscription box, and reviewed it at my own discretion. All statements and opinions in this review are mine.