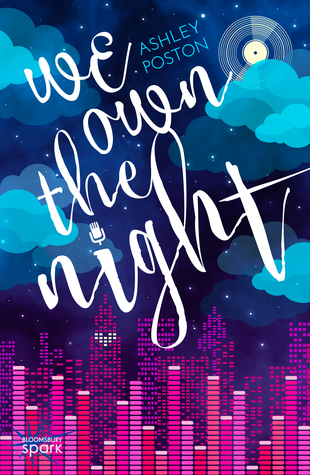 Title: We Own the Night
By: Ashley Poston
Release Date: June 28, 2016
Publisher:Bloomsbury Spark/ Bloomsbury USA Children's Books
Genres: Young Adult, Fiction, Contemporary, Romance
Format: e-ARC
Source: Netgalley
About We Own the Night:
"Happy midnight, my fellow Niteowls…"
As a candy store employee by day, and mysterious deejay "Niteowl" by night, eighteen-year-old Ingrid North is stuck between rock 'n roll and a hard place. She can't wait to get out of her tiny hometown of Steadfast, Nebraska (population three hundred and forty-seven) to chase her dreams, but small-town troubles keep getting in the way. She can't abandon her grandmother with Alzheimer's, or her best friend Micah–who she may or may not be in love with.
But for one hour each Saturday, she escapes all of that. On air, she isn't timid, ugly-sweater-wearing Ingrid North. She's the funny and daring Niteowl. Every boy's manic pixie dream girl. Fearless. And there is one caller in particular– Dark and Brooding–whose raspy laugh and snarky humor is just sexy enough to take her mind off Micah. Not that she's in love with Micah or anything. Cause she's not.
As her grandmother slips further away and Micah begins dating a Mean-Girls-worthy nightmare, Ingrid runs to the mysterious Dark and Brooding as a disembodied voice to lean on, only to fall down a rabbit hole of punk rockstars, tabloid headlines, and kisses that taste like bubble tea. But the man behind the voice could be surprising in all the right, and wrong, ways.
And she just might find that her real life begins when Niteowl goes off the air.
LINKS: Goodreads | Kindle: Amazon | Nook: B&N 
---
MY RANTS AND RAVES OF WE OWN THE NIGHT
WOW! WOW! WOW! We Own the Night is the perfect summery read. It is definitely an attention-grabbing and fast-paced novel (I read it in less than 5 hours, maybe 4), with heart-pounding moments, and a main character worth rooting for. From the first page, we are introduced to a young radio deejay named NiteOwl, who is going through the many motions of crushes, teenage life dilemmas, and graduating high school. NiteOwl turns out to be the main character, Ingrid North, a small town Nebraska native who adores music, is on the mends with her three best friends, and at the same time she has to care for her grandmother who has Alzheimer's. 
I really loved Ingrid as a character. Even though she is cautious, she can also be fearless, and definitely sarcastic and snarky. She has spent months not hanging out or communicating with her friends, because she has been taking care of her grandmother, and to top off her senior year, she has a major crush on her childhood friend, best friend in fact, Micah. But it turns out Micah is in love with someone else, and that's when hearts start crumbling in this story.
But Ingrid does not let her heartache outweigh her strength to make it through summer. Ingrid hosts her own Saturday midnight radio show, and this outlet allows her to be her true self, which is a smart, spunky, sassy, and determined young woman. I, in turn, loved how gritty and brave Ingrid truly is, especially when she is communicating with one of her notable callers, who she has dubbed "Dark and Brooding." Ahhh…their banter is sexy, wildly angsty, and romantic all at the same time. *swoons* These two characters bounce off each other so well, that you will be praying for a chance for them to meet in real life.
Ingrid not only exchanges "laugh out loud" banter with strangers on the radio, but she also exchanges sarcastic comments and hilarious repartee with her best friends and her own grandmother. This banter is often used as a comedic relief in all the craziness and sadness that Ingrid and her friends have to face. Additionally, I loved that throughout the book we not only get fun banter, but there is the awesome littering of The Princess Bride and The Office references, just to name a few popular culture allusions. 
This whole story is a mesh of fighting bullies, experiencing both heartbreak and/or heart-pounding confessions of love, and truly understanding the good and the bad moments that life throws at people.  We Own the Night is an all-around, feel good story sprinkled with love and infinite snapshots of a female protagonist enduring change. Friendships are tested. Punches are thrown. Relationships blossom. Gumballs are spilled. Dreams are dared. Life lessons are learned. And in the end, we get a truly remarkable book about maturing, falling in love, adventuring out of your comfort zone, and accepting the contingent events of life.  
NOTE: Thank you to Netgalley and Bloomsbury Spark/ Bloomsbury USA Children's Books for providing me an e-galley/e-ARC of this book in exchange for an honest review. All statements and opinions are my own.