Throwback Thursday Mini-Review: How to Say I Love You Out Loud by Karole Cozzo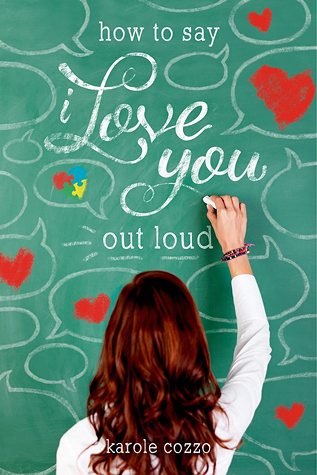 Title: How to Say I Love You Out Loud
By: Karole Cozzo
Release Date: August 4, 2015
Publisher: Swoon Reads
Genres: Young Adult, Fiction, Contemporary, Romance
Format: Physical ARC
Source: Received in a Swoon Reads Tote Bag Giveaway at Joseph Beth Bookseller's Cincinnati, Ohio book event
About How to Say I Love You Out Loud:
When Jordyn Michaelson's autistic brother joins her at her elite school, she's determined not to let anyone know they're related. Even if that means closing herself off to all her closest friends, including charming football stud Alex Colby. But despite her best intentions, she just can't shake the memory of kissing Alex last summer, and the desire to do it again. Can Jordyn find the courage to tell Alex how she really feels—and the truth about her family—before he slips away forever?
LINKS: Goodreads | Amazon | B&N |  The Book Depository
---
Mini-Review: My Rants and Raves of How to Say I Love You Out Loud
At first I thought this book was going to be a typical formulaic contemporary read, but I'm so glad I was wrong and kept reading.
I went into this story without reading its synopsis, and I think not knowing what the book was about made me like it more. Throughout the book, Jordyn, the main character, creates a boundary between her peers and her home life–the truth is that she has an autistic brother, and in the past she has always been labeled as the sister of the autistic kid. She is in her second year of starting a new school, and for once she is only Jordyn. But as the story progresses, her brother (Phillip) unintentionally bombards her school life, and people begin whispering how "weird" he is and find out that he's related to Jordyn.
In the end, I loved the development of Jordyn. She accepts who she is, and more importantly she accepts the challenges that life throws at her. She becomes brave, opens up her heart, and doesn't worry what other people think about her or her brother.
Karole Cozzo has a knack for real-life storytelling, and her development of creating Alex to push Jordyn to challenge herself is beautifully written. Jordyn's story is beautiful and well worth the read.
Note: This review was previously posted on my Goodreads account on August 2, 2015, and has been updated for my blog. I received an Advance Reader's Copy (ARC) from a giveaway hosted by Swoon Reads at a book event held at Joseph Beth Booksellers in Cincinnati, Ohio during the summer of 2015.   I was not provided a copy of this book by the author or the publisher in exchange for a review.  All statements and opinions in this review are mine.