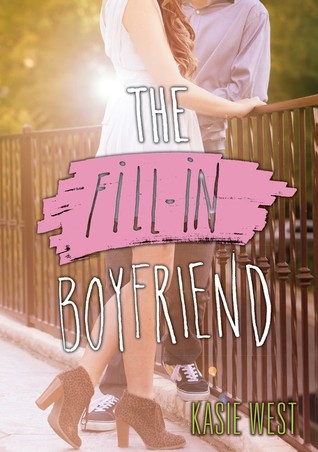 Title: The Fill-In Boyfriend
By: Kasie West
Release Date: May 5, 2015
Publisher: HarperTeen
Genres: Young Adult, Fiction, Contemporary, Romance
Pages: 344
Format: Physical ARC
Source: EpicReads' Early Readers Group (2015)
About The Fill-In Boyfriend:
When Gia Montgomery's boyfriend, Bradley, dumps her in the parking lot of her high school prom, she has to think fast. After all, she'd been telling her friends about him for months now. This was supposed to be the night she proved he existed. So when she sees a cute guy waiting to pick up his sister, she enlists his help. The task is simple: be her fill-in boyfriend—two hours, zero commitment, a few white lies. After that, she can win back the real Bradley.
The problem is that days after prom, it's not the real Bradley she's thinking about, but the stand-in. The one whose name she doesn't even know. But tracking him down doesn't mean they're done faking a relationship. Gia owes him a favor and his sister intends to see that he collects: his ex-girlfriend's graduation party—three hours, zero commitment, a few white lies.
Just when Gia begins to wonder if she could turn her fake boyfriend into a real one, Bradley comes waltzing back into her life, exposing her lie, and threatening to destroy her friendships and her new-found relationship.
PURCHASE THIS BOOK FROM YOUR LOCAL BOOKSELLER/RETAILER OR 
Amazon   •     Barnes and Noble    •     Book Depository 
---
My Rants and Raves of The Fill-In Boyfriend
WOW this story reeled me in and I don't want to be casted back out! If you know me, I have never been a go-to contemporary reader; however, in the last year, I am trying to change this fact about me and read more YA contemporary novels. I have never read a Kasie West novel, and after reading this book, I may have to gobble up her other books ASAP!
West's main character Gia is portrayed so accurately as a modern-day teenager–at first she is self-involved and constantly worried about what her "friends" think, but over time she begins to mature. Straight from the beginning, Gia recognizes that her words and actions are self-centered. But after asking for a favor from a concerned stranger (that would be Hayden, the fill-in boyfriend/Bradley), Gia starts to analyze herself, her friends, her frienemies, her family, her actions, and social media's influence on her life. And throughout her analysis, she begins to change and develop into a likable and self-conscious person.
This book is well-paced and each word tugs at your heart and your gut. Gia straight out says or portrays that she needs to change, and as a reader, I enjoyed that process of her evolution. The Fill-In Boyfriend is a quick read–I couldn't put it down–and adding a smart, observant, "geeky," and a lay-it-all-out-on-the-table fill-in boyfriend, like Hayden, to expose Gia's flaws and strengths made the story 10 times better. Hayden is swoon-worthy and definitely a friend to be trusted.
The only flaw I saw with the book was that I thought it was too short, but I may be acting bias because I want more Gia and Hayden banter/conversation.
Favorite lines:
"The librarian lowered her brow disapprovingly. 'I don't think we have any biographies on people who had to deal with d-bags'" (page 217 of the ARC).
"I was thinking about vanilla but then I thought, 'That is so boring, Gia will think I'm the most boring person ever.'"…"So then I thought, 'I bet Blake here will tell me what to order,' but he was no help whatsoever. Thanks a lot, Blake." (page 225 of the ARC).
Note: This review was previously posted on my Goodreads account in May 19, 2015, and has been updated for my blog. I received an Advance Reader's Copy (ARC) from Epic Reads as a participant reviewer for their new Early Readers Group in the summer of 2015.  Thank you, Epic Reads and HarperTeen! All statements and opinions in this review are mine.