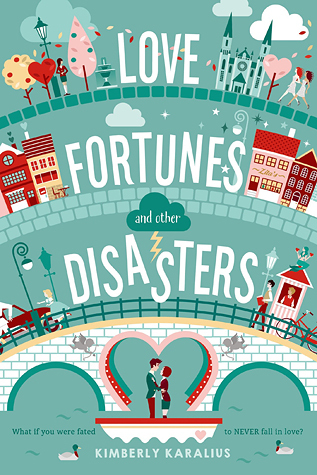 Title: Love Fortunes and Other Disasters
By:  Kimberly Karalius 
Release Date: May 12, 2015
Pages: 368 (Paperback)
Publisher: Swoon Reads
Genre: Young Adult, Fantasy, Contemporary, Magical Realism
Synopsis:
In the tradition of Alice Hoffman's Practical Magic, one girl chooses to change her fortune and her fate by falling in love.
Love is real in the town of Grimbaud, and Fallon Dupree has dreamed of attending high school there for years. After all, generations of Duprees have successfully followed the (100% accurate!) love fortunes from Zita's famous Love Charms Shop to happily marry their high school sweethearts. It's a tradition. So she is both stunned and devastated when her fortune states that she will NEVER find love.
Fortunately, Fallon isn't the only student with a terrible love fortune, and a rebellion is brewing. Fallon is determined to take control of her own fate—even if it means working with a notorious heartbreaker like Sebastian.
Will Fallon and Sebastian be able to overthrow Zita's tyranny and fall in love?
---
MY RANTS AND RAVES OF LOVE FORTUNES AND OTHER DISASTERS
INITIAL RAVES: Magic realism. Fate. Charms. A quirky heroine. A town infatuated with the fortunes of love. And a love to die for. So much goodness!!!
Love Fortunes and Other Disasters left me giddy and wanting more shenanigans in the town of Grimbaud. For a while, my thoughts of Kimberly Karalius's novel could only be described in short phrases and words, and I still do not think I can do the book justice in sentence form, but I am going to try.
As a person seeking out contemporary reads but in love with fantasy/magic realism, Love Fortunes is the perfect book that interweaves both of these genres. Karalius somehow discovered an elaborate formula to perfectly combine elements of Pushing Daisies, The Night Circus, and Francesca Lia Block's modern spin on mythical entities into one–and alas Love Fortunes and Other Disasters was constructed.
As a novel in the Swoon Reads publishing company, Love Fortunes and Other Disasters entwines different snapshots of swoon-worthy moments and memorable characters. The heroine, Fallon, is willing to fight against a love fortune that fate has given her, and change her destiny in the realm of love. As she commits to changing her own destiny, she also begins to help her friends and other people in town who are fated hopelessness and ill fortunes in their "love" lives, including the swoony, "I'm-too-good-to-fall-in-love" classmate, Sebastian.
If you are in the mood for a fun, fast-paced story about a quirky and determined female, Love Fortunes and Other Disasters is the book you are destined to read.
PURCHASE THIS BOOK FROM YOUR LOCAL BOOKSELLER/RETAILER

 
Amazon   •     Barnes and Noble    •     Book Depository 
NOTE:          This review was previously posted on my Goodreads account in April 11, 2015, and has been updated for my blog. I received an Advance Reader's Copy (ARC) through the publisher in a Goodreads giveaway.  All statements and honest opinions are mine.