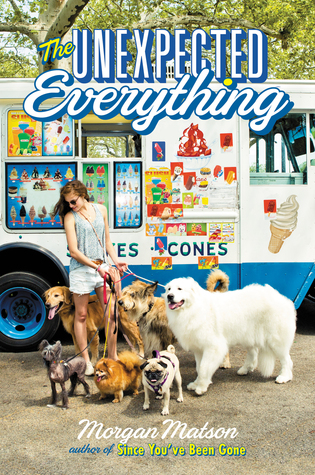 Title: The Unexpected Everything
By:   Morgan Matson
Release Date: May 3, 2016
Pages: 528 (Hardcover)
Publisher: Simon & Schuster
Format: e-ARC
Source: Netgalley
Goodreads Summary
Andie had it all planned out.
When you are a politician's daughter who's pretty much raised yourself, you learn everything can be planned or spun, or both. Especially your future.
Important internship? Check.
Amazing friends? Check.
Guys? Check (as long as we're talking no more than three weeks)
But that was before the scandal. Before having to be in the same house with her dad. Before walking an insane number of dogs. That was before Clark and those few months that might change her whole life.
Because here's the thing – if everything's planned out, you can never find the unexpected.
And where's the fun in that?
---
My Rants and Raves of The Unexpected Everything
First off, if you love Morgan Matson's past books, you will definitely add The Unexpected Everything to your favorites list. Matson once again creates a contemporary world rattled with familial problems, tested friendships, swoony and smart boys, and summer plans gone awry. The main character, Andie, is not the most likable character, but her development throughout the novel shows great maturity. A lot of characters consume this book, making the story a bit confusing and overpowering with drama, but overall each character brings their own spin and flair to the story, and they all help shape Andie's unforgettable summer.
Andie is the daughter of a widowed congressman; she is organized, ambitious, and always has a plan. She has her summer internship set up and she's single, so no one can get in the way of her goals. However, after her dad is caught in the middle of an investigated scandal, Andie's plans get put on the back burner and she has to learn to "go with the flow." Even though Andie is very high-strung, I love that she takes initiative to make the most of her summer instead of wallowing in self-pity.
Throughout the novel, Andie does not have the best communication skills when it comes to talking to her father and her friends, and this always seems to lead to more problems. When communication problems go astray in the book, frustration is ensued.  The lack of communication is a huge conflict that is stretched throughout the novel, and it is not just Andie dealing with it. Even one of her friends, who is obsessed with emojis, starts to feel the pressure of how communication is a key factor in making friendships and relationships work. Luckily, Andie meets Clark who is shy, but also has an innate gift of bringing people together through storytelling. 
In regards to my absolute favorite "rave" of The Unexpected Everything, I can definitely admit that Clark is by far my favorite character in the book. First off, his "geeky" shirts are "punny" and fantastic. And not to give too much away about him, but I love that he is going through a George R.R. Martin writing phase. Clark is smart, awkward, funny, and so adorable (those dimples!!!). He is definitely the perfect person to balance Andie's strict, planned out life.
Additionally, my fellow Matson book-lovers, characters from Since You've Been Gone make small cameos in The Unexpected Everything…it's brief but some of our favorite characters are there and it's blissful and wonderful (EEEEeee!!!)! 
Overall, The Unexpected Everything is 528 pages of frustration AND adoration. It definitely has its great moments: Clark, Bertie's shenanigans, and a big group scavenger hunt, to name a few.  This book is unquestionably the perfect read to start off your summer with. So prepare yourself for some teenage angst, leaked secrets, fluffy dogs, and a story about an unanticipated summer filled with humorous surprises.
PURCHASE THIS BOOK FROM YOUR LOCAL BOOKSELLER/RETAILER 
Amazon   •     Barnes and Noble    •     Book Depository 
NOTE:         Thank you to Simon & Schuster for providing me an e-galley/e-ARC of this book for an honest review. All statements and opinions are mine.