Title: Starflight
By:  Melissa Landers
Release Date: February 2, 2016
Pages: 369 (Hardcover)
Publisher: Disney-Hyperion
Format: Hardcover
Source: Signed copy from Joseph Beth Booksellers in Cincinnati
GOODREADS'S SUMMARY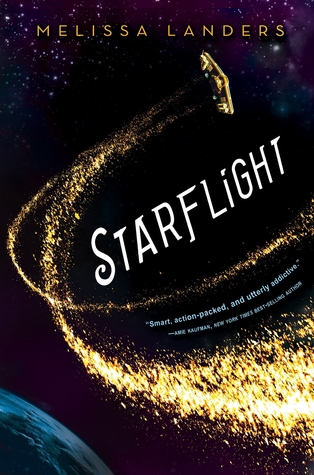 Life in the outer realm is a lawless, dirty, hard existence, and Solara Brooks is hungry for it. Just out of the orphanage, she needs a fresh start in a place where nobody cares about the engine grease beneath her fingernails or the felony tattoos across her knuckles. She's so desperate to reach the realm that she's willing to indenture herself to Doran Spaulding, the rich and popular quarterback who made her life miserable all through high school, in exchange for passage aboard the spaceliner Zenith.
When a twist of fate lands them instead on the Banshee, a vessel of dubious repute, Doran learns he's been framed on Earth for conspiracy. As he pursues a set of mysterious coordinates rumored to hold the key to clearing his name, he and Solara must get past their enmity to work together and evade those out for their arrest. Life on the Banshee may be tumultuous, but as Solara and Doran are forced to question everything they once believed about their world—and each other—the ship becomes home, and the eccentric crew family. But what Solara and Doran discover on the mysterious Planet X has the power to not only alter their lives, but the existence of everyone in the universe…
---
MY REVIEW
Overall, I found this book hard to put down–it is definitely a great page-turner. I am always a sucker for any outlet that encompasses space adventure and criminal runaways seeking refuge among other misfits. Starflight is definitely a novel that can stand on its own as a gift to the sci-fi genre. As I read the story, I started making connections to popular culture, and I most definitely saw a reflection and integration of two of my favorite fandoms: Joss Whedon's Firefly and John Hughes' The Breakfast Club. 
Similar to the TV show Firefly, Landers has created a story revolving around a female protagonist, in this case Solara Brooks, who wants to create new beginnings in the intergalactic abyss. Solara unwillingly tags along with rich and charming Doran Spaulding, who finds himself in his own predicament. And to make the tension between these two greater, they both despise each other. Through grand scheming and fate, both characters find themselves aboard a spaceship with its own band of misfits. And not to give too much away, the characters aboard this spacecraft have a slight parallelism to the cast of The Breakfast Club: a princess, a thief, a basket case, a brain, an athlete, and a criminal (well, there might be more than one criminal…hahaha).  
The conflicts, twists, and the space pirates that litter Starflight's plot kept me on the edge of my seat. Some of the conflicts were predictable, but other times I was caught off guard and completely surprised. I mostly enjoyed the love/hate relationships that are described in the story, which provides a tolerable angst that is worthy of being developed and transformed into new friendships and companionship. If you like a slow burn romance, you will quite enjoy and be entertained by the tempers, banters, and selfless sacrifices of several characters in this story. 
MY RANTS AND RAVES
RANTS:          Some plot lines were predictable, but overall, the story is very unique and enjoyable. 
RAVES:          I love me a good space story, and Landers definitely provided a brilliant cast of misfits in a new and exciting setting of outer space. Plus, I enjoyed the development of friendship that is encountered throughout the whole novel. 
NOTE:          All statements and opinions are mine.
PURCHASE THIS BOOK FROM YOUR LOCAL BOOKSELLER/RETAILER