Title: The Forbidden Orchid
By:  Sharon Biggs Waller
Release Date: March 8, 2016
Pages: 432 (Hardcover)
Publisher: Viking
Format: ARC
Source: Blogger Giveaway 
GOODREADS'S SUMMARY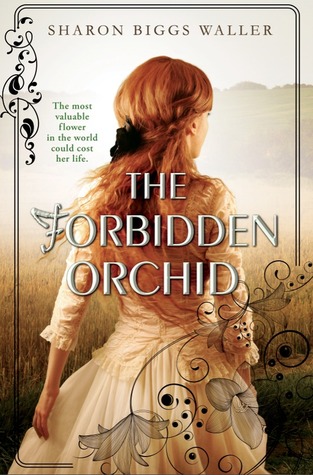 Staid, responsible Elodie Buchanan is the eldest of ten sisters living in a small English market town in 1861. The girls barely know their father, a plant hunter usually off adventuring through China. Then disaster strikes: Mr. Buchanan reneges on his contract to collect an extremely rare and valuable orchid. He will be thrown into debtors' prison while his daughters are sent to the orphanage and the workhouse.
Elodie can't stand by and see her family destroyed, so she persuades her father to return to China once more to try to hunt down the flower—only this time, despite everything she knows about her place in society, Elodie goes with him. She has never before left her village, but what starts as fear turns to wonder as she adapts to seafaring life aboard the tea clipper The Osprey, and later to the new sights, dangers, and romance of China. But now, even if she can find the orchid, how can she ever go back to being the staid, responsible Elodie that everybody needs?
---
MY REVIEW:
I am a Victorian period enthusiast. It's a period in history where the roles of women were evolving; adventure challenged Victorian ideas and socio-cultural understandings; and literature shaped societal outcomes. Similar to traditional Victorian novels, Sharon Biggs Waller's The Forbidden Orchid reflects tropes commonly found in nineteenth-century literature. Ideally, the author includes a feisty female lead, patriarchy's fear of female transgression, and the British Empire's imperial ambitions to tame "other" civilizations.
Waller's main character, Elodie Buchanan, is one of the most satisfying female characters I have read in a long time. She is funny, witty, and damn it, she doesn't take anyone's disapproval to heart, especially from her local clergyman. Like her father, who is a plant hunter, Elodie has an innate sense of adventure, discovery, and independence. Unlike her father, who seems to lack the idea that he needs to be more emotionally involved with his wife and ten daughters, Elodie takes on the responsibility to help her family unite emotionally, physically, and financially.
Additionally, the sense of adventure is scattered throughout the story. Elodie encounters thieves of the English streets, the sea sickness from the rough seas, and China's beautiful plants but humid terrain. Elodie's sly abilities to escape the thresholds of patriarchy's rules and her safe English home, and then venture onto a clipper like the Osprey, allows her to transgress from the domestic sphere and gain access to the public sphere, suited "only" for men. Elodie, like many adventure-seekers, romanticizes about the journey to new discoveries. But Waller doesn't make this a story of "happy travels"; she provides insightful perspectives, ruthless villains, and plot twists that focus on the upsets, tragedies, and obstacles many explorers encounter.
There is never a dull moment in Elodie's adventure to China where she is in search of the Queen's Fancy, a rare orchid with a beautiful aroma. Of course, one of my favorite moments of her adventure is when Elodie meets Alex, a Russian sailor, and his energetic dog, Kukla. Elodie's relationship with Alex is a challenge, and I loved the development of friendship, companionship, and love between these two.
MY RANTS AND RAVES
RANTS:          In all honesty, I don't have a single rant for this book. I have been out of graduate school for three years, and The Forbidden Orchid projected me back to a time where I not only enjoyed reading, but loved learning from it too. The whole books stands as a true reflection of Victorian norms and changes that early suffragettes included in their steps to change patriarchal conventions.
RAVES:          The overall plot is filled with adventure, but Elodie definitely steals each scene with her witty banter, determination, and independent thoughts. She illuminates a powerful stance that disrupts the status quo in English society and even on a clipper ship full of bawdy males. I can definitely tell that Waller put a lot of thought, energy, and research into this novel, so she could capture a true depiction of the Victorian realm and the Chinese culture of the nineteenth century .
NOTE:          I won this Advance Reader's Copy from a blogger's giveaway, and was not asked to provide a review.  All statements and opinions are mine.
PURCHASE THIS BOOK FROM YOUR LOCAL BOOKSELLER/RETAILER