Title: Dreaming of Antigone
By:  Robin Bridges
Release Date: March 29, 2016
Pages: 304 (Paperback)
Publisher: Kensington 
Format: e-galley/e–ARC
Source: Netgalley
GOODREADS'S SUMMARY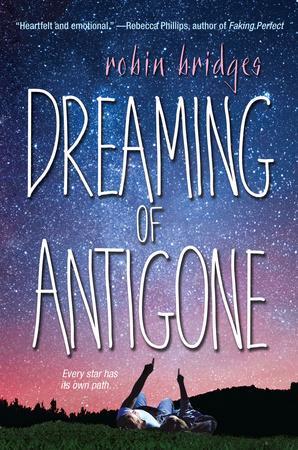 Every star has its own path…
"I can't ever be the blazing star that Iris was. I'm still just a cold, dark satellite orbiting a star that went super nova."
Andria's twin sister, Iris, had adoring friends, a cool boyfriend, a wicked car, and a shelf full of soccer trophies. She had everything, in fact—including a drug problem. Six months after Iris's death, Andria is trying to keep her grades, her friends, and her family from falling apart. But stargazing and books aren't enough to ward off her guilt that she—the freak with the scary illness and all-black wardrobe—is still here when Iris isn't. And then there's Alex Hammond. The boy Andria blames for Iris's death. The boy she's unwittingly started swapping lines of poetry and secrets with, even as she tries to keep hating him.
Heartwrenching, smart, and bold, Dreaming of Antigone is a story about the jagged pieces that lie beneath the surface of the most seemingly perfect life…and how they can fit together to make something wholly unexpected.
---
MY REVIEW
Dreaming of Antigone by Robin Bridges is a cluster of chaos that unfolds into a mending story of restoration. This story is dark and consuming. As a high school student, the main character, Andria, is not only dealing with failing grades and the fear of epileptic seizures, but she is still grieving for her twin sister, Iris, who died of an overdose six months ago.
I loved the aspect that this story is told in first-person narrative. Andria's voice is raw, grief-stricken, and utterly straightforward and honest. She doesn't hold the reader back from her internal thoughts or emotions when it comes to describing her connection with poets, a passion for astronomy, and a grudge against her late sister's drug addict boyfriend, Alex. As Andria mourns, she also begins to contemplate and understand the sadness, the secrets, and the guilt that the people around her are also battling.
The development that Andria experiences throughout the novel is brilliantly written. Andria's candid confessions of nightmares, fears, and emotional baggage come from the idea that she honestly believes, "My sister still blames me for her death" (chapter 1). But as she mourns, Andria also willingly adjusts to the unfortunate cards she's been dealt.
Bridges makes a poignant move by writing a main character that doesn't lose herself in her grief, but instead portrays Andria as someone that is compliant to accept change. Andria begins to hang out with her and her sister's old friends again, earn extra credit with her "enemy," and more importantly, she discovers her sister's painful secret. Andria's evolution and progress throughout the novel is not only heartbreaking, but it is wonderfully crafted. Bridges definitely has created a modern day tragedy, but in Andria's story, the final message is as beautiful as a supernova.
I found Iris's secret predictable, but only because her secret is a maddening reality that plagues our society daily. If you are a fan of Perk of Being a Wallflower by Stephen Chbosky and Love Letter to the Dead by Ava Dellaira, definitely look into reading Dreaming of Antigone.  Dreaming of Antigone reflects the sadness, misfortunes, pain, and, more importantly, the healing message found in these two books where characters painfully suffer in silence. Additionally, similar to these two amazing novels, Dreaming of Antigone executes a message that sometimes nightmares become reality, but that reality doesn't always have to be suffered alone.
RANTS and RAVES
RANTS: This story is dark, but Andria's voice summons the reader to partake in her grief, hate, and understanding. Although the story is  first person narrative (strictly in Andria's point of view), I would have loved to have heard from Alex Hammond's, Iris's boyfriend, point of view. He is dangerous, moody, brooding, but strong-willed. Alex and Andria's story is quite predictable, but overall, I wish Alex's perspective was brought to the surface more. His pain is often found in his dialogue and poems, but I would have loved to hear his side of the story.
RAVES: While reading this book, I felt like I was falling in love with a story similar to Love Letter to the Dead all over again. Dreaming of Antigone is a riveting page-turner. Andria's voice is so direct and captivating. It is hard not to emotionally connect with her sorrow, internal thoughts, and her passion to seek and understand the truth involving her sister's death. I am a sucker for any story that has characters obsessed with space, stars, and constellations, so I immediately connected to Andria every time she stargazed. Additionally, the novel definitely had some noteworthy quotes. 
FAVORITE QUOTES:
"Natalie leaves the remaining cupcakes. 'Take one a day as needed. With Diet Coke. Repeat in six hours if no results.' I roll my eyes. 'What results?' 'Mom says cupcakes are the cure for unhappiness.'" (Chapter 29)
"This is Greek tragedy. And I'm as broken as he is." (Antigone, Chapter 27)
"His kisses are gentle, like a prayer, seeking and forgiving." (Chapter 30)
"Think about other things, Andria. Like baby pandas. Or cupcakes." (Chapter 25)
NOTE:         I received this e-galley/e-ARC from the publisher on Netgalley for an honest review. All statements and opinions are mine.
Dreaming of Antigone is out on March 29, 2016.