Title: Station Eleven
By: Emily St. John Mandel
Release Date: September 10, 2014
Pages: 352 (Hardcover)
Publisher: Picador
Format: UK Hardcover
Source: Purchased
GOODREADS'S SUMMARY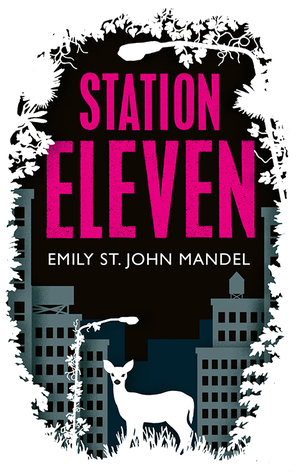 DAY ONE
The Georgia Flu explodes over the surface of the earth like a neutron bomb.
News reports put the mortality rate at over 99%.
WEEK TWO
Civilization has crumbled.
YEAR TWENTY
A band of actors and musicians called the Travelling Symphony move through their territories performing concerts and Shakespeare to the settlements that have grown up there. Twenty years after the pandemic, life feels relatively safe.
But now a new danger looms, and he threatens the hopeful world every survivor has tried to rebuild.
STATION ELEVEN
Moving backwards and forwards in time, from the glittering years just before the collapse to the strange and altered world that exists twenty years after, Station Eleven charts the unexpected twists of fate that connect six people: famous actor Arthur Leander; Jeevan – warned about the flu just in time; Arthur's first wife Miranda; Arthur's oldest friend Clark; Kirsten, a young actress with the Travelling Symphony; and the mysterious and self-proclaimed 'prophet'.
Thrilling, unique and deeply moving, this is a beautiful novel that asks questions about art and fame and about the relationships that sustain us through anything – even the end of the world.
---
My Review
I started Station Eleven in July 2015 and finished it over the weekend (February 2016). I usually gobble books up in one sitting, but this book sat by my bedside for months with occasional reading; it's definitely a book meant to be savored.
Station Eleven is an intricate and well-written novel that consists of a non-linear storyline, unraveling plot twists, huge character development, and a post-apocalyptic wasteland concerned with humanity, humility, and survival.
All of the main characters revolve around one man, Arthur Leander, who died a few days before the Georgia Flu epidemic that kills 99% of the world's population. But before Arthur, a famous actor, passes away, he leaves behind a memorable legacy among his family, ex-wives, friends, fellow actors, and cohorts, which spans out through a 15-year-plus wandering plotline.
Because the chapters jump from character to character, pre-apocalypse v. apocalypse v. post-apocalypse scenes, and place to place, I had to pay close attention to detail, dialogue, and which characters were involved in each scene.
I was very much ingrained in Kirsten's storyline. As an 8-year-old actress, Kirsten admired Arthur, a kind man that gave her acting advice and gifted her his ex-wife's self-created comic books, "Station Eleven." As we follow Kirsten from a young girl to a young woman, she explains her struggles to survive in a world filled with disease, nomadic living, scarce medical supplies/expertise, limited food, cults, and religious fanatics like the Prophet. As a fellow member of the traveling Symphony, a nomadic group that performs Shakespeare plays and music concerts, Kirsten provides a very detailed account of her 15 years of survival in an post-apocalyptic world. She is smart, resourceful, diligent, and more importantly a survivalist.
Overall, Station Eleven is an eventful novel that significantly impacts the reader's perception of humankind's endurance. It plunges the reader into a intricate web of storylines that examines humanity, personal versus group choices, fate, and what it takes to survive a non-governmental society.
RANTS:     There are a lot of  time-shifting scenes and characters, so be sure to keep notes or be really good at multi-tasking. 
RAVES:     This book will plunge you into apocalyptic/post-apocalyptic scenarios that seem too real to turn way from. Station Eleven is filled with realistic, surreal, and nightmarish scenes that will leave you questioning nature, humankind, and personal "what if" situations. I personally savored each storyline, setting, and character like it was my was last encounter with them.  Also, I own both the UK and US hardcover of this book, and the UK cover is so simple and beautiful–definitely my favorite between the two hardcover choices. 
NOTE:          All statements and opinions are mine.